Expanding Athors for Connecting-rod Aligner A NEW range of expanding
27th February 1953
Page 47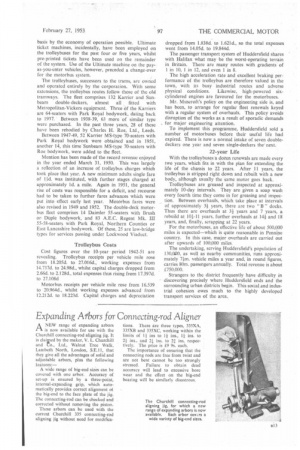 Page 47, 27th February 1953 —
Expanding Athors for Connecting-rod Aligner A NEW range of expanding
Close
arbors is now available for use with the Churchill connecting-rod aligning jig. It is claired by the maker, V. L. Churchill and Co., Ltd., Walnut Tree Walk, Lambeth North, London, S.E.11, that they give all the advantages of solid and adjustable arbors, plus the following features:—
A wide range of big-end sizes can be covered with one arbor. Accuracy of set-up is ensured by a three-point, internal-expanding grip, which automatically provides correct alignment al the big-end to the face plate of the jig. The connecting-rod can be checked and corrected without removing the piston.
These arbors can be used with the current Churchill 335 connecting-rod aligning jig without need for modifica lions. There are three types, 335XA, 335KB and 335XC, working within the limits of 1/ ins to 11 ins., 11 ins. to 21 ins., and 21 ins. to 2! ins. respectively. The price is £9 9s. each.
The importance of ensuring that the connecting rods arc free from twist and are not bent cannot be too strongly stressed. Failure to obtain dead accuracy will lead to excessive bore wear and the effect on the big-end bearing will be similarly disastrous.