"U AT AND DOWNS" UDDERSFIELD
27th February 1953
Page 42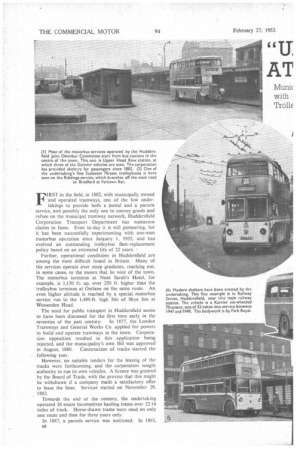 Page 43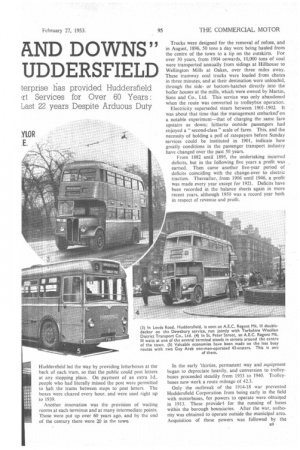 Page 44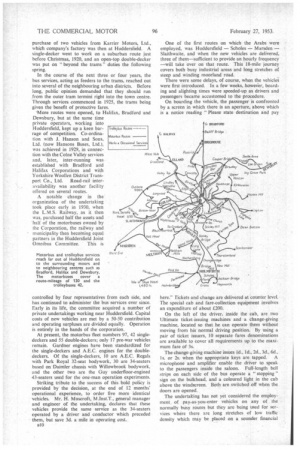 Page 47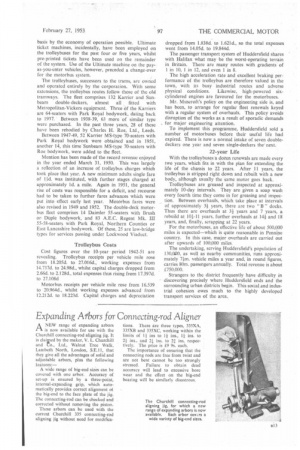 Page 42, 27th February 1953 —
"U AT AND DOWNS" UDDERSFIELD
Close
FIRST in the field, in 1882, with municipally owned and operated tramways, one of the few undertakings to provide both a i)ostal and a parcels service, and possibly the only one to convey goods and refuse on the municipal tramway network, Huddersfield Corporation Transport Department has numerous claims to fame. Even to-day it is still pioneering, for it has been successfully experimenting with one-man motorbus operation since January 1, 1952, and has evolved an outstanding trolleybus fleet-replacement policy based on an estimated life of 22 years.
Further, operational conditions in Huddersfield are among the most difficult found in Britain. Many of the services operate over steep gradients, reaching out, in some cases, to the moors that lie west of the town. The motorbus terminus at Nont Sarah's Hotel, for example, is 1,150 ft. up, over 250 ft. higher than the trolleybus terminus at Outlane on the same route. An even higher altitude is reached by a special motorbus service run to the 1,480-ft. high Isle of Skye Inn at Wessenden Head.
The need for public transport in Huddersfield seems to have been discussed for the first time early in the seventies of the past century. In 1877, the London Tramways and General Works Co. applied for powers to build and operate tramways in the town. Corporation opposition resulted in this application being rejected, and the municipality's own Bill was approved in August, 1880. Construction of tracks started the following year.
However, no suitable tenders for the leasing of the tracks were forthcoming, and the corporation sought authority to run its own vehicles. A licence was granted by the Board of Trade, with the proviso that this might be withdrawn if a company made a satisfactory offer to lease the lines. Services started on November 29, 1882.
Towards the end of the century, the undertaking operated 26 steam locomotives hauling trams over 22.16 miles of track. Horse-drawn trams were used on only one route and then for three years only.
In 1887, a parcels service was instituted. In 1893, B8 Huddersfield led the way by providing letterboxes at the back of each tram, so that the public could post letters at any stopping place. On payment of an extra Id., people who had literally missed the post were permitted to halt the trams between stops to post letters. The boxes were cleared every hour, and were used right up to 1939.
Another innovation was the provision of waiting rooms at each terminus and at many intermediate points. These were put up over 60 years ago, and by the end of the century there were 20 in the town Trucks were designed for the removal of refuse, and in August, 1896, 50 tons a day were being hauled from the centre of the town to a tip on the outskirts. For over 30 years, from 1904 onwards, 10,000 tons of coal were transported annually from sidings at Hillhouse to Wellington Mills at Oakes, over three miles away. These tramway coal trucks were loaded from chutes in three minutes, and at their destination were unloaded, through the sideor bottom-hatches directly into the boner houses at the mills, which were owned by Martin. Sons and Co., Ltd. This service was only abandoned when the route was converted to trolleybus operation.
Electricity superseded steam between 1901-1902. It was about that time that the management embarked on a notable experiment—that of charging the same fare upstairs as down; hitherto outside passengers had enjoyed a " second-class " scale of fares. This, and the necessity of holding a poll of ratepayers before Sunday services could be instituted in 1901, indicate how greatly conditions in the passenger transport industry have changed over the past 50 years.
From 1882 until 1895, the undertaking incurred deficits, but in the following five years a profit was earned. Then came another five-year period of deficits coinciding with the change-over to electric traction. Thereafter, from 1906 until 1946, a profit was made every year except for 1921. Deficits have been recorded in the balance sheets again in more recent years, although 1950 was a record year both in respect of revenue and profit.
In the early 'thirties, permanent way and equipment began to depreciate heavily, and conversion to trolleybuses proceeded steadily from 1933 to 1940. Trolleybuses now work a route mileage of 42.3.
Only the outbreak of the 1914-18 war prevented Huddersfield Corporation from being early in the field with motorbuses, for powers to operate were obtained in 1913. These provide4 for the running of buses within the borough boundaries. After the war, authority was obtained to operate outside the municipal area. Acquisition of these powers was followed by the purchase of two vehicles from Karrier Motors, Ltd., which company's factory was then at Huddersfield. A single-decker went to work on a suburban route just before Christmas, 1920, and an open-top double-decker was put on "beyond the trams" duties the following spring.
In the course of the next three or four years, the bus services, acting as feeders to the trams, reached out into several of the neighbouring urban districts. Before long, public opinion demanded that they should run from the outer tram termini right into the town centre. Through services commenced in 1925, the trams being given the benefit of protective fares.
More routes were opened, to Halifax, Bradford and Dewsbury, but at the same time private operators, working into Huddersfield, kept up a keen barrage of competition. Co-ordination with J. Hanson and Sons, Ltd. (now Hansons Buses, Ltd.), was achieved in 1929, in connec tion with the Come Valley services and, later, inter-running was established with Bradford and Halifax Corporations and with Yorkshire Woollen District Trans
port Co., Ltd. Road-rail interavailability was another facility offered on several routes.
A notable change in the organization of the undertaking took place early in 1930, when the L.M.S. Railway, as it then was, purchased half the assets and half of the motorbuses owned by the Corporation, the railway and municipality then becoming equal partners in the Huddersfield Joint Omnibus Committee. This is controlled by four representatives from each side, and has continued to administer the bus services ever since. Early in its life, the committee acquired a number of private undertakings working near Huddersfield. Capital costs of new vehicles are met by a 50-50 contribution and operating surpluses are divided equally. Operation is entirely in the hands of the corporation.
At present, the motorbus fleet numbers 97, 42 singledeckers and 55 double-deckers; only 17 pre-war vehicles remain. Gardner engines have been standardized for the single-deckers and A.E.C. engines for the doubledeckers. Of the single-deckers, 10 are A.E.C. Regals with Park Royal 32-seat bodywork, 30 are 34-seaters based on Daimler chassis with Willowbrook bodywork, and the other two are the Guy underfloor-engined 43-seaters used for the one-man operation experiments.
Striking tribute to the success of this bold policy is provided by the decision, at the end of 12 months' operational experience, to order five more identical vehicles. Mr. H. Muscroft, M.Inst.T., general manager and engineer of the undertaking, declares that these vehicles provide the same service as the 34-seaters operated by a driver and conductor which preceded them, but save 3d. a mile in operating cost.
al0 One of the first routes on which the Arabs were employed, was Huddersfield — Scholes — Marsden — Slaithwaite, and when the new vehicles are delivered, three of them—sufficient to provide an hourly frequency —will take over on that route. This 18-mile journey covers both busy industrial areas and long stretches of steep and winding moorland road.
There were some delays, of course, when the vehicles were first introduced. In a few weeks, however, boarding and alighting times were speeded-up as drivers and passengers became accustomed to the procedure.
On boarding the vehicle, the passenger is confronted by a screen in which there is an aperture, above which is a notice reading "Please state destination and pay here." Tickets and change are delivered at counter level. The special cab and fare-collection equipment involves an expenditure of about £200.
On the left of the driver, inside the cab, are two Ultimate ticket-issuing machines and a change-giving machine, located so that he can operate them without moving from his normal driving position. By using a pair of ticket issuers, 10 separate fares denominations are available to cover all requirements up to the maximum fare of 3s.
The change-giving machine issues id., id., 2d., 3d., 6d., Is. or 2s. when the appropriate keys are tapped. A microphone and amplifier enable the driver to speak to the passengers inside the saloon. Full-length bell strips on each side of the bus operate a " stopping" sign on the bulkhead, and a coloured light in the cab above the windscreen. Both are switched off when the doors are opened.
The undertaking has not yet considered the employment of pay-as-you-enter vehicles on any of the normally busy routes but they are being used for services where there are long stretches of low traffic density which may be placed on a sounder financial basis by the economy of operation possible. Ultimate ticket machines, incidentally, have been employed on the trolleybuses for the past four or five years, whilst pre-printed tickets have been used on the remainder of the system. Use of the Ultimate machine on the payas-you-enter vehicles, however, preceded a change-over for the motorbus system.
The trolleybuses, successors to the trams, are owned and operated entirely by the corporation. With some extensions, the trolleybus routes follow those of the old tramways. The fleet comprises 132 Karricr and Sunbeam double-deckers, almost all fitted with Metropolitan-Vickers equipment. Three of the Karriers are 64-seaters with Park Royal bodywork, dating back to 1937. Between 1938-39, 63 more of similar type were purchased. In the past three years, 28 of these have been rebodied by Charles H. Roe, Ltd., Leeds.
Between 1947-49, 52 Karrier MS-type 70-seaters with Park Royal bodywork were obtained and in 1951, another 14, this time.Sunbeam MS-type 70-seaters with Roe bodywork, were added to the fleet.
Mention has been made of the record revenue enjoyed in the year ended March 31, 1950. This was largely a reflection of an increase of trolleybus charges which took place that year. A new minimum adults single fare of 1 Id. was instituted, with further stages charged at approximately id. a mile. Again in 1951, the general rise of costs was responsible for a deficit, and recourse had to be taken to further fares advances which were put into effect early last year. Motorbus fares were also revised in 1949 and 1952. The double-deck motorbus fleet comprises 14 Daimler 55-seaters with Brush or Duple bodywork, and 83 A.E.C. Regent Mk. III 55-58-seaters with Park Royal, Northern Counties or East Lancashire bodywork. Of these, 25 are low-bridge types for services passing under Lockwood Viaduct.
Trolleybus Costs
Cost figures over the 10-year period 1942-51 are revealing. Trolleybus receipts per vehicle mile rose from 18.205d. to 27.016d., working expenses from 14.737d. to 24.98d., whilst capital charges dropped from 2.66d. to 2.128d., total expenses thus rising from 17.397d. to 27.108d Motorbus receipts per vehicle mile rose from 16.539 to 20.964d., whilst working expenses advanced from 12.212d. to 18.223d. Capital charges and depreciation dropped from 1.838d. to 1.621d., so the total expenses went from 14.05d. to 19.844d.
The passenger transport system of Huddersfield shares with Halifax what may be the worst-operating terrain in Britain. There are many routes with gradients of 1 in 10, 1 in 12, and even 1 in 8.
The high acceleration rate and excellent braking performance of the trolleybus are therefore valued in the town, with its busy industrial routes and adverse physical conditions. Likewise, high-powered sixcylindered engines are favoured for the motorbuses.
Mr. Muscroft's policy on the engineering side is, and has been, to arrange for regular fleet renewals keyed with a regular system of overhauls. This policy avoids disruption of the works as a result of sporadic demands for major engineering attention.
To implement this programme, Huddersfield sold a number of motorbuses before their useful life had expired. There is now a normal intake of seven doubledeckers one year and seven single-deckers the next.
22-year Life With the trolleybuses a dozen renewals are made every two years, which fits in with the plan for extending the life of the chassis to 22 years. After 11 years, the trolleybus is stripped right down and rebuilt with a new body, although usually the same motor goes back.
Trolleybuses are greased and inspected at approximately 10-day intervals. They are given a soap wash every fourth time they come in for greasing and inspection. Between overhauls, which take place at intervals of approximately 31 years, there are two " B " docks. Thus there are overhauls at 31. years and 7 years, a rebuild at 101-11 years, further overhauls at 14i and 18 years, and, finally, scrapping at 22 years.
For the motorbuses, an effective life of about 500,000 miles is expected—which is quite reasonable in Pennine country. In this case, major overhauls are carried out after upwards of 100,000 miles.
The undertaking, serving Huddersfield's population of 130,000, as well as nearby communities, runs approximately 71.m. vehicle miles a year and, in round figures, carries 80m. passengers annually. Total revenue is about ,£750,000.
Strangers to the district frequently have difficulty in discovering precisely where Huddersfield ends and the surrounding urban districts begin. This social and industrial cohesion owes much to the highly developed transport services of the area.