Awkward Tasks Made Easy
27th February 1953
Page 41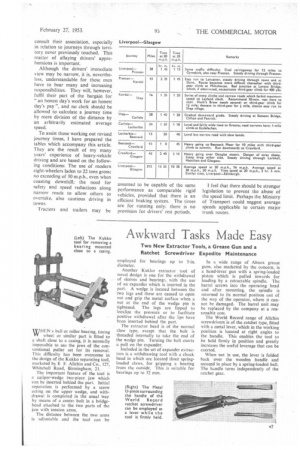 Page 41, 27th February 1953 —
Awkward Tasks Made Easy
Close
Two New Extractor Tools, a Grease Gun and a Ratchet Screwdriver Expedite Maintenance WHEN a ball or roller bearing, timing wheel or similar part is fitted to a shaft close to a casing, it is normally impossible to use the jaws of the conventional puller set for its removal. This difficulty has been overcome in the design of the Kukko separating tool, marketed by E F. Allchin and Co., 127,
Whitehall Road, Birmingham, 21. • The important feature of the tool is a caliper-wedge two-piece jaw which can be inserted behind the part. Initial separation is performed by a screw acting on the upper wedge, and withdrawal is completed in the usual way by means of a centre bolt in a bridgehead attached to the two parts of the .jaw with tension arms.
The distance between the two arms is adjustable and the tool can be employed for bearings up to 3-in. diameter.
Another Kukko extractor tool of novel design is one for the withdrawal of sleeves and bearing..;, with the use of an expander which is inserted in the part. A wedge is located between the two legs and these arc caused to open out and grip the metal surface when a nut at the end of the wedge pin is tightened. The legs are lipped to localize the pressure or to facilitate positive withdrawal after the lips have been inserted behind the part.
The extractor head is of the normal claw type, except that the bolt is threaded internally to take the end of the wedge pin. Turning the bolt exerts a pull on the expander.
Included in the set of expander extractors is a withdrawing tool with a chuck head in which are located three springloaded claws, for gripping a bearing from the outside. This is suitable for bearings up to 32 mm.
In a wide range of Abnox grease guns, also marketed by the concern, is a hand-lever gun with a spring-loaded piston which is pulled inwards for loading by a retractable spindle. The barrel screws into the operating head and after mounting. the spindle is returned to its normal position out of the way of the operator, where it cannot be damaged. The barrel unit may be replaced by the company at a reasonable cost.
The World Record range of Allchin screwdrivers is of the ratchet type, fitted with a metal lever, which in the working position is located at right angles to the handle. This enables the tool to be held firmly in position and greatly increases the useful leverage that can be exerted.
When not in use, the lever is folded back over the wooden handle and secured in place by a spring-loaded ball. The handle turns independently of the ratchet gear.