Wise Planning
27th February 1953
Page 40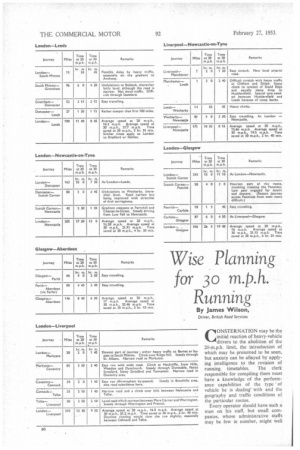 Page 41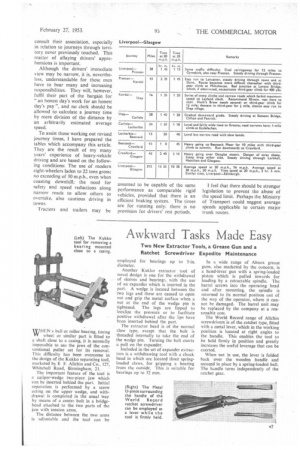 Page 40, 27th February 1953 —
Wise Planning
Close
for 30 no.h.
Running
By James Wilson, Driver, British Rood Services CONSTERNATION may he the initial reaction of heavy-vehicle drivers to the abolition of the 20-m.p.h. limit, the introduction of which may be presumed to be soon, but anxiety can be allayed by applying intelligence to the revision of running timetables. The clerk responsible for compiling them must have a knowledge of the performance capabilities of the type 'of vehicle he is dealing with and the geography and traffic conditions of the particular routes.
Every operator should have such a man on his staff, but small companies, whose administrative staffs may be few in number, might well consult their association, especially in relation to journeys through territory never previously touched. This matter of allaying drivers' apprehensions is important.
Although the drivers' immediate view may he narrow, it is, nevertheless, understandable for these men have to bear many and increasing responsibilities. They will, however, fulfil their part of the bargain for "an honest day's work for an honest day's pay ", and no clerk should be allowed to calculate a journey time by mere division of the distance by an arbitrarily estimated average speed.
To assist those working out revised journey times, I have prepared the tables which accompany this article. They are the result of my many years' experience of heavy-vehicle driving and are based on the following conditions: The use of modern eight-wheelers laden to 22 tons gross; no exceeding of 30 m.p.h., even when coasting downhill; the need for safety and speed reductions along narrow roads to allow others to overtake, also cautious driving in towns.
Tractors and trailers may be assumed to be capable of the same I feel that there should be stronger performance as comparable rigid legislation to prevent the abuse of vehicles, provided that there is an the speed limit. Perhaps the Ministry efficient braking system. The times of Transport could suggest average are for running only: there is no speeds applicable to certain major provision for drivers' rest periods. trunk routes.