Seeing to It Himself
27th February 1953
Page 38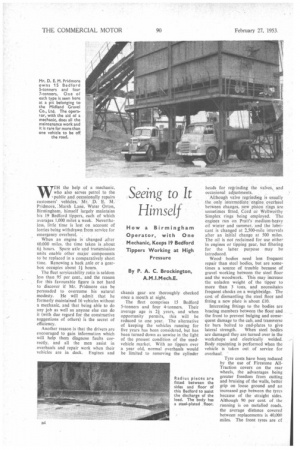 Page 39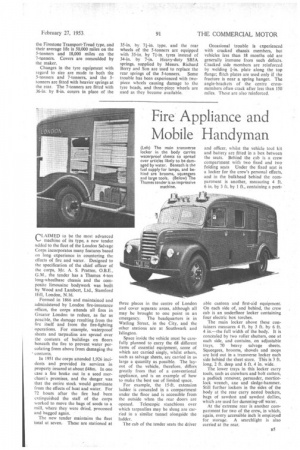 Page 38, 27th February 1953 —
Seeing to It Himself
Close
How a Birmingham Operator, with One Mechanic, Keeps 19 Bedford Tippers Working at High Pressure By P. A. C. Brockington, A.M.I.Mech.E.
WrH. the help of a mechanic, who also serves petrol to the public and occasionally repairs customers'. vehicles, Mr. D. E. M. Pridmore, .Marsh Lane, Water Orton, Birmingham, himself largely maintains his 19 Bedford tippers, each of which averages 1,000 miles a week. Nevertheless, little time is lost on account of lorries being withdrawn from service for emergency overhaul.
When an engine is changed after 60,000 miles. the time taken is .about 6i hours. Spare axle and transmission units enable other major components to he replaced in a comparatively short time. Renewing a back axle or a gearbox occupies about li hours.
The fleet seryiceability ratio is seldom less than 95 per cent., and the reason for this favourable figure is not hard to discover if Mr. Pridmore can be persuaded to overcome his natural modesty. He will admit that he formerly maintained 16 vehicles without a mechanic, and that being able to do any job as well as anyone else can do it (with due regard for the constructive suggestions of others) is the secret of efficiency.
Another reason is that the drivers are encouraged to gain information which will help them diagnose faults correctly, and all the men assist in overhauls and repair work when their vehicles are in dock. Engines and chassis gear are thoroughly checked once a month at night.
The fleet comprises 15 Bedford 5-tonners and four 4-tonners. Their average age is 2i years, and when opportunity permits, this will be reduced to one year. The alternative of keeping the vehicles running for five years has been considered, but has been turned down as unwise in the light of the present condition of the usedvehicle market. With no tippers over a year old, normal overhauls would be limited to removing the cylinder heads for regrinding the valves, and occasional adjustments.
Although valve regrinding is usually the only intermediate engine overhaul between ehanges, new piston rings are sometimes fitted, Cord or Wellworthy Simplex rings being employed. The engines run on Pratt's medium-heavy oil winter and summer, and the lubricant is changed at 2,500-mile intervals after an initial change at 500 miles. The oil is not reclaimed for use either in engines or tipping gear, but filtering for the latter purpose may be introduced.
Wood bodies need less frequent repair than steel bodies, but are sometimes a source of trouble because of gravel working between the steel floor and the woodwork. This may increase the unladen weight of the tipper to more than 3 tons, and necessitates frequent checks on a weighbridge. The cost of dismantling the steel floor and fitting a new plate is about £10.
Interesting fittings to the bodies are bracing members between the floor and the front to prevent bulging and consequent damage to the cab, and transverse tie bars bolted to end-plates to give
lateral strength. When steel bodies are damaged they are turned over in the workshops and electrically welded. Body repainting is performed when the vehicle is taken out of service for overhaul.
Tyre costs have been reduced by the use of Firestone AllTraction covers on the rear wheels, the advantages being greater freedom from cutting and bruising of the walls, better grip on loose ground and an increased gap between the tyres because of the straight sides. Although 90 per cent. of the running is on metalled roads. the average distance covered between replacements is 40,000 miles. The front tyres are of the Firestone Transport-Tread type, and their average life is 50,000 miles on the 5-tonners and 18,000 miles on the 7-tanners. Covers are remoulded by the maker.
Changes in the tyre equipment with iegard to size are made to both the 5-tonners and 7-tonners, and the 5tonners are fitted with heavier springs at the rear. The 7-tonners are fitted with 36-in. by 8-in, covers in place of the
35-in. by 7i-in. type, and the rear wheels of the 5-tonners are equipped with 35-in, by 71-in. tyres instead of 34-in. by 7-in. Heavy-duty SB5A springs, supplied by Messrs. Richard Berry and Son are used to replace the rear springs of the 5-tonners. Some trouble has been experienced with twopiece wheels causing damage to the tyre beads, and three-piece wheels are used as they become available.
Occasional trouble is experienced with cracked chassis members, but vehicles less than 18 months old are generally immune from such defects. Cracked side members are reinforced by welding g-in. plate along the top flange; flitch plates are used only if the fracture is near a spring hanger. The angle-brackets of the centre crossmembers often crack after less than 150 miles. These are also reinforced.