Europe Uses More Road Transport: Bigger Buses in Demand
27th February 1953
Page 37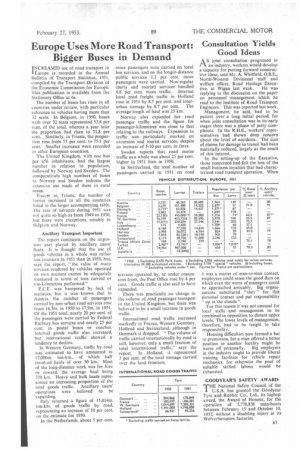 Page 37, 27th February 1953 —
Europe Uses More Road Transport: Bigger Buses in Demand
Close
INCREASED use of road transport in 'Europe is recorded in the Annual Bulletin of Transport Statistics, 1951, compiled by the Transport Division of the Economic Commission for Europe. this publication is available from the Stationery Office at 6s.
The number of buses has risen in all countries under review, with particular reference to vehicles having more than 12 seats. In Belgium, in 1950, buses with over 32 scats represented 53.8 per cent, of the total, whereas a year later the proportion had risen to 71.8 per cent. Similarly, in Trieste, the proportion rose from 55 per cent. to 75.1 per cent. Smaller increases were recorded in other European countries.
The United Kingdom, with one bus per 656 inhabitants, had the largest number in relation to population, followed by Norway and Sweden. The comparatively high numbers of buses in Norway and Sweden indicate the extensive use made of them in rural areas.
Except in Trieste, the number of Lorries increased in all the countries listed in the larger accompanying table, lhe rate of advance during 1951 was not quite so high as from 1949 to 1950, but there were exceptions, notably in Belgium and Norway.
Ancillary Transport Important The report comments on the important part played by ancillary users' fleets. It is thought that tho use of goods vehicles as a whole was rather less intensive in 1951 than in 1950, but, says the report, 'the value of many services rendered by vehicles operated on own account cannot be adequately measured in terms of tons carried or ton-kilometres performed."
E.C.E. was hampered by lack of statistics, but it was known that in Austria the number of passengers carried by non-urban road services rose from 16.3m. in 1950 to 17.9m..in 1951. Of the 1951 total, nearly 20 per cent, of the passengers were carried by Federal Railway bus services and nearly 25 per cent, in postal buses or coaches. Internal goods traffic also increased, but international traffic showed a tendency to decline.
In Western Germany, traffic by load was estimated to have amounted to 17,000m. ton-km., of which half involved hauls of over 50 km. Most of the long-distance work was for hire or reward, the average haul being 270 km. Heavy and bulk loads represented an increasing proportion of the total goods traffic. Ancillary users' operations were believed to be expanding.
Italy returned a figure of 15,814m. ton-km. of goods traffic by road, representing an increase of 10 per cent. on the estimate for 1950.
in the Netherlands, about 5 per cent. more passengers were carried on local bus services, and on the longer-distance public services 1.3 per cent. more passengers were carried. Non-regular (party and tourist) services handled 4.8 per cent, more traffic. Internal local road freight traffic in Holland rose in 1951 by 8.5 per cent. and interurban tonnage by 8.7 per cent. The average length of haul was 25 km.
Norway also expanded her road passenger traffic and the figure for passenger-kilometres was close to that relating to the railways. Expansion in traffic was particularly marked on excursion and tourist services, despite an increase of 5-10 per cent, in fares.
Sweden reports that road motor traffic as a whole was about 25 per cent. higher in 1951 than in 1950, In Switzerland, the total number of passengers carried in 1951 on road services operated by, or under concession from, the Post Office rose by 4 per cent. Goods traffic is also said to have expanded.
There was practically no change in the volume of road passenger transport in the United Kingdoria, but there was believed to be a small increase in goods traffic.
International road traffic increased markedly in France, Western Germany, Holland and Switzerland, although in Denmark it dropped. "The volume of traffic carried internationally by road is still, however, only a small fraction of total international traffic," says the report. In Holland, it represented 3 per cent. of the total tonnage carried over the land frontiers.