Consultation Yields Good Ideas
27th February 1953
Page 37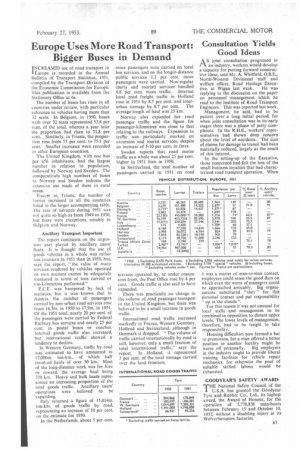 Page 37, 27th February 1953 —
Consultation Yields Good Ideas
Close
ASjoint consultation progressed in an industry, workers would develop a capacity for putting forward constructive ideas, said Mr. A. Whitfield, 0.B.E., North-Western Divisional staff and welfare officer, Road Haulage Execu
tive, at Wigan last week. He was replying to the discussion on the paper on personnel management which he read to the Institute of Road Transport Engineers. This was reported last week.
Management, he said, had to be patient over a long initial period, for when joint consultation was in its early stages there was a phase of petty complaints. In the R.H.E., workers' representatives had Shown deep concern about the level of accidents. The cost of claims for damage in transit had been materially reduced, largely as the result of this interest.
In the setting-up of the Executive, those concerned had felt the loss of the small business loyalties that had characterized road transport operation. When it was a matter of man-to-man contact, employees could sense the good days on which even the worst of managers could be approached amicably. Big organizations substituted " they " for this personal contact and put responsibility "up in the clouds ".
For this reason it was not unusual for local staffs and management to be combined in opposition to distant upper levels. The lower levels of management, therefore, had to be taught to take responsibility.
Housing difficulties now formed a bar to promotion, for a man offered a better position in another locality might be worse off personally. Big employers in the industry ought to provide liberal training facilities for vehicle repair mechanics, for otherwise the pool of suitable skilled labour would be exhausted.
GOODYEAR'S SAFETY AWARD THE National Safety Council of the 1 U.S.A. has granted the Goodyear Tyre and Rubber Co., Ltd., its highest award, the Award of Honour, for the operation of 5,770,838 man-hours between February 15 and October 10, 1952, without a disabling injury at its Wolverhampton factories.