Two New Stations for London
27th February 1953
Page 36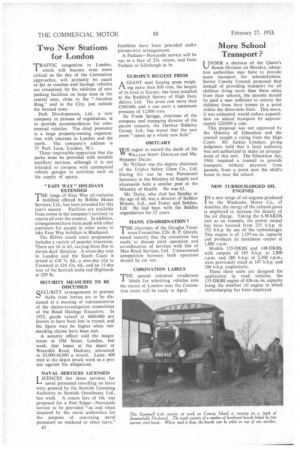 Page 36, 27th February 1953 —
Two New Stations for London
Close
TRAFFIC congestion in London, L which will become even more critical as the day of the Coronation approaches, will probably be eased as tar as coaches and haulage vehicles are concerned, by the addition of new parking facilities on large sites in the central area, close to the '" Amulree Ring," and in the City, just outside the banned zone. Park Developments, Ltd., a new company in process of registration, is to provide accommodation for commercial vehicles. The chief promoter is a large property-owning organization with interests in London and the north. The company's address is 55 Park Lane, London, W.I. Those responsible appreciate that the parks must be provided with suitable ancillary services, although it is not intended to compete with commercial vehicle garages in activities such as the supply of spares.
"EASY WAY" HOLIDAYS EXTENDED
THE range of Easy Way all-inclusive holidays offered by Ribble Motor Services, Ltd., has been extended for this year's season. Facilities are available from towns in the company's territory to resorts all over the country. In addition, arrangements have been made with other
people operators for in other areas to take Easy Way holidays in Blackpool.
The Ribble coach tours programme includes a variety of popular itineraries. There are 16 in all, varying from five to eleven days' duration. A seven-day tour to London and the South Coast is priced at £18 7s. 6d., a nine-day trip to Cornwall at £24 13s. 6d., and an 11-day tour of the Scottish lochs and Highlands at £29 8s.
SECURITY MEASURES TO BE DISCUSSED
QECURITY arrangements to prevent b.-I thefts from lorries are to be discussed at a meeting of representatives of the claims-investigation committees of the Road Haulage Executive. In 1952, goods valued at £600,000 are known to have been lost in transit, and the figure may be higher when outstanding claims have been met. A security officer told the magistrates at Old Street, London, last week, that losses at the depot at Waterden Road, Hackney, amounted to £3,000-£4,000 a month. Later, 400 men at the depot struck work as a protest against his allegations.
NAVAL SERVICES LICENSED
L10ENCES for three services for 1-1 naval personnel travelling on leave were granted by the Scottish Licensing Authority to Scottish Omnibuses, Ltd., last week. A return fare of 18s. was proposed for a Port Edgar—Newcastle service to be provided "as and when required by the naval authorities for the purpose of conveying naval personnel on weekend or other leave,"
a2
Facilities have beenprovided under private-hire arrangements. A Faslane—Newcastle service will be run at a fare of 25s. return, and from Faslane to Edinburgh at 9s.
EUROPE'S BIGGEST PRESS 1-1
A GIANT steel forging press weigh ing more than 800 tons, the largest of its kind in Europe, has been installed at the Redditch factory of High Duty Alloys, Ltd. The press cost more than f500,000, and it can exert a maximum pressure of 12,000 tons. Sir Frank Spriggs, chairman of the company and managing director of the parent concern, the Hawker Siddeley Group, Ltd., has stated that the new press "opens up a whole new field."