More School Transport ?
27th February 1953
Page 36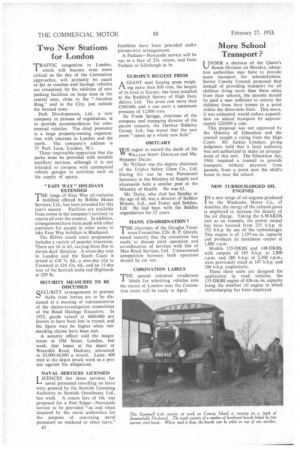 Page 36, 27th February 1953 —
More School Transport ?
Close
UNDER a decision of the Queen's %-.0 Bench Division on Monday, education authorities may have to provide more transport for schoolchildren. Surrey County Council proposed that instead of providing transport for all children living more than three miles from their schools, the parents should be paid a sum sufficient to convey the children from their homes to a point within the three-mile limit. This move, it was estimated, would reduce expenditure on school transport by approximately £20,000 a year. This proposal was not approved by the Ministry of Education and the council sought a ruling from the High Court. Mr. Justice Lynskey, giving judgment, held that a local authority was not authorized to make an arrangement of this sort. The Education Act, 1944, required a council to provide transport, without payment from parents, from a point near the child's home to near the school.
NEW TURBOCHARGED OIL ENGINES
IN a new range of oil engines produced / by the Waukesha Motor Co., of America, the energy of the exhaust gases is employed to increase the density of the air charge. Taking the 6-WAKDS unit as an example, the power output has been boosted from 225 b.h.p. to 352 b.h.p. by use of the turbocharger. This engine is of 1,197-cu.-in. capacity and produces its maximum output at 1,800 r.p.m.
Models 135-DKBS and 148-DKBS, with outputs of 185 b.h.p. at 2,800 r.p.m. and 280 b.h.p. at 2,100 r.p.m., were previously rated at 147 b.h.p. and 200 b.h.p. respectively.
These three units are designed for application to road vehicles, the 135-DKBS engine of 426-cu.-in. capacity being the smallest oil engine in which turbocharging has been employed.