Women Want Oneman Buses T HE suggestion that small buses without
27th February 1953
Page 35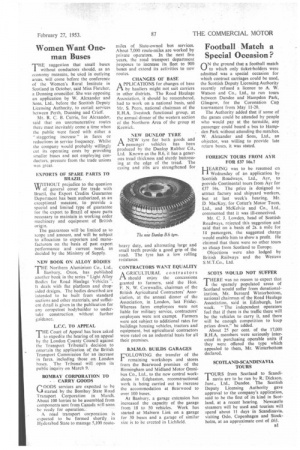 Page 35, 27th February 1953 —
Women Want Oneman Buses T HE suggestion that small buses without
Close
conductors should, as an economy measure, be used in outlying areas, will come before the conference of the Women's Rural Institute in Scotland in October, said Miss Fletcher, a Dunning councillor. She was opposing an application by W. Alexander and Sons, Ltd., before the Scottish Deputy Licensing Authority, to curtail services between Perth, Dunning and Crieff.
Mr. R. C. B. Currie, for Alexander, said that on unremunerative routes there must inevitably come a time when the public were faced with either a staggering increase" in fares or reductions in service frequency. Whilst the company would probably willingly cut its operating costs by providing smaller buses and not employing conductors, pressure from i he trade unions was great.
EXPORTS OF SPARE PARTS TO BRAZIL WITHOUT prejudice to the question W of general cover for trade with Brazil, the Export Credits Guarantee Department has been authorized, as an exceptional measure, to provide a special and limited type of guarantee for the export to Brazil of spare parts necessary to maintain in working order machinery and equipment of British on gin.
The guarantees will' be limited as to scope and amount, and will be subject to allocation to exporters and manufacturers on the basis of past export performance and current need, as decided by the Ministry of Supply.
NEW BOOK ON ALLOY BODIES
THE Northern Aluminium Co.; Ltd., Banbury, Oxon, has published another book in the series " Light Alloy Bodies for Road Haulage Vehicles". It deals with flat platform and dropsided designs. The bodies described are intended to be built from standard sections and other materials, and sufficient detail is given in the publication for any competent bodybuilder to undertake construction without further guidance.
L.C.C. TO APPEAL
THE Court of Appeal has been asked to expedite the hearing of an appeal by the London County Council against the Transport Tribunal's decision to entertain the application of the British Transport Commission for an increase in fares. including those on London buses, The Tribunal will open its public inquiry on March 9.
BOMBAY CORPORATION TO CARRY GOODS GOODS services are expected to be started by the Bombay State Road Transport Corporation in March. About 100 lorries to be assembled from components sent from Canada will soon be ready for operation.
A road transport corporation is expected to be formed shortly in I lytlerabad State to manage 5,100 route
miles of State-owned bus services. About 7,000 route-miles are worked by private operators. In the next five years, the road transport department proposes to increase its fleet to 900 buses and extend its activities to new routes.
CHANGES OF BASE A PPLICATIONS for changes of base ./A by hauliers might not suit carriers in other districts. The Road Haulage Association, it should be remembered, had to work on a national basis, said Mr. S. Peers, national chairman of the R.H.A. livestock functional group, at the annual dinner of the western section of the Northern Area of the group at Keswick.
NEW DUNLOP TYRE
ANEW tyre for both goods and passenger vehicles has been produced by the Dunlop Rubber Cd., Ltd. Known as the B.6, it has a generous tread thickness and sturdy buttressing at the edge of the tread. The easing and ribs are strengthened for
heavy duty, and alternating large and small teeth provide a good grip of the road. The tyre has a low rolling resistance.
CONTRACTORS WANT EQUALITY A GR1CULTURAL contractors IA should enjoy the concessions granted to farmers, said the Hon. F. N. W. Cornwallis, chairman of the British Agricultural Contractors' Association, at the annual dinner of the Association, in London. last Friday. Whereas farm employees were not liable for military service, contractors' employees were not exempt. Farmers were not subject to additional rates for buildings housing vehicles, tractors and equipment, but agricultural contractors were rated on an industrial basis for all their premises.
B.M.M.O. BUILDS GARAGES COLLOWING the transfer of the
remaining workshops and stores from the Bearwood premises of the Birmingham and Midland Motor Omnibus Co., Ltd., to the new central workshops in Edgbaston, rcconstructional work is being carried out to increase the accommodation at Bearwood to over 100 buses.
At Banbury. a garage extension has increased the capacity of the garage from 18 to 50 vehicles. Work has started at Malvern Link on a garage for 30 buses and a garage of similar size is to be erected in Lichfield.