Football Match a Special Occasion?
27th February 1953
Page 35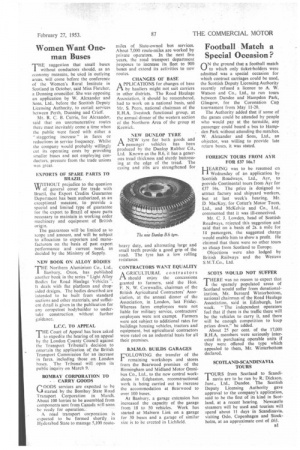 Page 35, 27th February 1953 —
Football Match a Special Occasion?
Close
Oof the ground that a football match to which only ticket-holders were admitted was a special occasion for which contract carriages could be used, the Scottish Deputy Licensing Authority recently refused a licence to A. W. Watson and Co., Ltd., to run tours between Dundee and Hampden Park, Glasgow, for the Coronation Cup tournament from May 11-20.
The Authority added that if some of the games could be attended by people who would pay at the turnstile, any passenger could board a bus to Hampden Park without attending the matches. W. Alexander and Sons, Ltd., an objector, was willing to provide late return buses, it was stated.
FOREIGN TOURS FROM AYR FOR 137 16s.?
WEARING was to be resumed on I 1 Wednesday of an application by Scottish Roadways, Ltd., Ayr, to provide Continental tours from Ayr for £37 16s. The price is designed to attract factory and shipyard workers, but at last week's hearing, Mr. D. MacKay; for Cotter's Motor Tours, Ltd., and McKelvie and Co., Ltd., commented that it was ill-conceived.
Mr. C. J. Lowden, head of Scottish Roadways, rejected this suggestion and said that on a basis of 2s. a mile for 18 pasSengers, the suggested charge would enable him to show a profit. He claimed that there were no other tours so cheap from Scotland to Europe.
Objections were also lodged by British Railways and the Western S M.T.Co., Ltd.
SCOTS WOULD NOT SUFFER THERE was no reason to expect that 1 the sparsely populated areas of Scotland would suffer from denationalization, Mr. Bernard Winterbottom, national chairman of the Road Haulage Association, said in Edinburgh, last
week. The independent operators feel that if there is the traffic there will be the vehicles to carry it, and there will be enough competition to keep prices down," he added.
About 25 per cent. of the 17,000 R.H.A. members were seriously interested in purchasing operable units if they were offered the type which appealed to them, Mr. Winterbottom declared.
SCOTLAND-SCANDINAVIA TOURS
TOURS from Scotland to Scandinavia are to be run by R. Dickson, Junr., Ltd., Dundee. The Scottish Deputy Licensing Authority gave approval ta the company's application, said to be the first of its kind in Scotland, at a recent hearing. Newcastle steamers will be used and tourists will spend about 11 days in Scandinavia, visiting Oslo, Copenhagen and Stockholm, at an approximate cost of £65. BI