Annis Case Divides Tribunal : Appeal Dismissed by Majority
27th February 1953
Page 34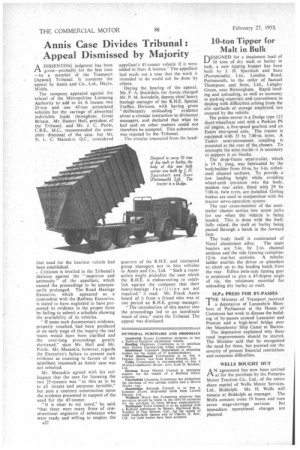 Page 34, 27th February 1953 —
Annis Case Divides Tribunal : Appeal Dismissed by Majority
Close
A DISSENTING judgment has been PI given—probably_ for the first time —by a member of the Transport [Appeal] Tribunal. It concerns the appeal by Annis and Co., Ltd., Hayes, Middx.
The company appealed against the refusal of the Metropolitan Licensing Authority to add to its A licence two 25-ton and one 45-ton articulated vehicles for the carriage of .abnormal indivisible loads throughout Great Britain. Mr. Hubert Hull, president of the Tribunal, and Mr. J. C. Poole, C.B.E., MC., recommended the complete dismissal of the case. but Mr_ N. L. C. Macaskie, Q.C.. considered that need for the heaviest vehicle had been established.
Criticism is levelled in the Tribunal's decision against the "suspicion and animosity" of the appellant, which caused the proceedings to be unnecessarily prolonged. The Road Haulage Executive, which appeared as a respondent with the Railway Executive, is stated to have neglected to have presented its evidence in the proper form by failing to submit a schedule showing the availability of its vehicles.
" If some such documentary evidence, properly vouched, had been produced at an early stage of the inquiry the real issues would have been clarified and the over-long proceedings greatly shortened," state Mr. Hull and Mr. Poole. Mr. Macaskie, however, regards the Executive's failure to present such evidence as counting in favour of the appellant, inasmuch as Annis' case was not rebutted.
Mr. Macaskie agreed with his colleagues that the case for licensing the two 25-tonners was "so thin as to be to all intents and purposes invisible," but puts a contrary construction upon the evidence presented in support of the need for the 45-tanner.
"It is clear to my mind," he said, "that there were many firms of constructional engineers of substance who were ready and willing to employ the A32 appellant's 45-tonner vehicle if it were added to their A licence." The appellant had made out a case that the work it intended to do could not be done by others.
During the hearing of the appeal, Mr. F. A. Stockdale, for Annis, charged Mr. P. M. Swindells, deputy chief heavy haulage manager of the R.H.E. Special Traffics Division, with having given "deliberately misleading" evidence about a circular instruction to divisional . managers, and declared that what he had said on other matters could not therefore be accepted. This submission was rejected by the Tribunal.
The circular emanated from the head quarters of the R.H.E. and instructed group managers not to hire vehicles to Annis and Co., Ltd. "Such a transaction might prejudice the case which the R.H.E. is endeavouring to establish against the company that their heavy-haulage facilities are not required," it read. Mr. Frank Annis heard of it from a friend who was at one period an R.H.E. group manager.
"The introduction of this matter into the proceedings led to an inordinate waste of time," states the Tribunal. The appeal was dismissed.