10-ton Tipper for Malt in Bulk
27th February 1953
Page 34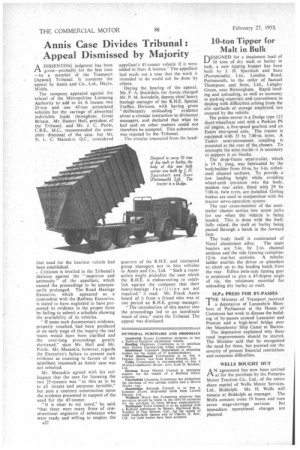 Page 34, 27th February 1953 —
10-ton Tipper for Malt in Bulk
Close
nESIGNED for a maximum load of
10 tons of dry malt or barley in bulk, a new tipping hopper has been built by J. H. Sparshatt and Sons (Portsmouth), Ltd., London Road, Portsmouth, to the order of Samuel Thompson and Sons, Ltd., Langley Green, near Birmingham. Rapid loading and unloading, as well as economy in packing materials and convenience in dealing with difficulties arising from the silo methods of storage employed, are ensured by the vehicle.
The prime mover is a Dodge type 123 short-wheelbase unit with a Perkins P6 oil 'engine, a five-speed gearbox and an Eaton two-speed axle. The tractor is equipped with 35 by 7.00-in. tyres. A Tasker semi-permanent coupling is mounted at the rear of the chassis. To uncouple the semi-trailer it is necessary to support it on blocks.
The drop-frame semi-trailer, which is 19 ft. long, was fabricated by the bodybuilder from 10-in., by 3-in, rolledsteel channel sections. To provide a' low loading height while avoiding wheel-arch intrusion into the body. tandem rear axles, fitted with 29 by 7.00-in, twin tyres, are installed. Girling brakes are used in conjunction with the tractor servo-operation system.
The rear cross-member of the semitrailer chassis carries two screw jacks for use when the vehicle is being loaded. This is done with the body fully raised, the malt or barley being passed through a hatch in the forward face.
The body itself is constructed of Noral aluminium alloy. The main bearers are 5-in. by 2-in, channel sections and the side framing comprises II-in. top-hat sections. A tubular ladder enables the driver or attendant to climb up to the loading hatch from the rear. Ed bra twin-ram tipping gear is employed to give a 45-degree angle of tip, the minimum essential for unloading dry barley or malt.
M.P.s PRESS FOR BY-PASSES
THE Minister of Transport received a deputation of Lancashire Members of Parliament at the House of Commons last week to discuss the building of by-passes around Lancaster and Preston and a high-level bridge over the Manchester Ship Canal at Barton.
The deputation explained why these road improvements should be started. The Minister said that he recognized the need for them, but pointed out the severity of present financial restrictions and economic difficulties.
WELLS BOUGHT OUT
AN agreement has now been arrived at for the purchase by the Potteries Motor Traction Co., Ltd., of the entire share capital of Wells Motor Services. Ltd., Biddulph. Mr. H. Wells will remain at Biddulph as manager. The Wells concern owns 19 buses and runs seven stage-carriage services. No immediate operational changes are planned.