Export Value a New Record but Fewer Vehicles Shipped
27th February 1953
Page 33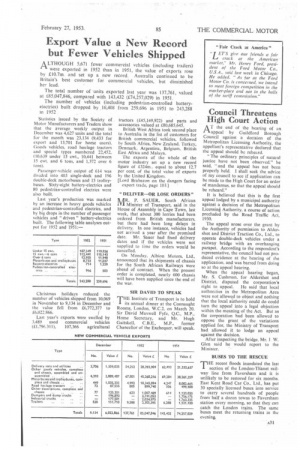 Page 33, 27th February 1953 —
Export Value a New Record but Fewer Vehicles Shipped
Close
LTHOUGH 5,671 fewer commercial vehicles (including trailers) were exported in 1952 than in 1951, the value of exports rose by £10.7m_ and set up a new record. Australia continued to be Britain's best customer for commercial vehicles, but diminished her lead.
The total number of units exported last year was 137,761, valued at £85,047,846, compared with 143,432 (£74,257,029) in 1951.
The number of vehicles (including pedestrian-controlled batteryelectrics) built dropped by 16,408 from 259.696 in 1951 to 243,288 in 1952 Statistics issued by the Society of Motor Manufacturers and Traders show that the average weekly output in December was 4,627 units and the total for the month was 23,134 (9,433 for export and 13,701 for home users). Goods vehicles, road haulage tractors and special types numbered 22,452, (10,639 under IS cwt., 10,441 between 15 cwt. and 6 tons, and 1,372 over 6 tons).
Passenger-vehicle output of 614 was divided into 403 single-deck and 196 double-deck motorbuses and 15 trolleybuses. Sixty-eight battery-electrics and 80 pedestrian-controlled electrics were also built.
Last year's production was marked by an increase in heavy goods vehicles and pedestrian-controlled electrics, and by big drops in the number of passenger vehicles and " driven " battery-electrics built. The following table analyses output for 1952 and 1951: Christmas holidays reduced the number of vehicles shipped from 10,069 in November to 9,134 in December and the value fell from £6,772,377 to £6.022.866.
Last year's exports were swelled by 3,489 used commercial vehicles (£1,796.311), 107,366 agricultural tractors (£45,149,922) and parts and accessories valued at £80,685,645.
British West Africa took second place to Australia in the list of customers for British commercial vehicles, followed by South Africa, New Zealand, Turkey, Denmark. Argentina, Belgium, British East Africa and Malaya.
the exports of the whole of the motor industry set up a new record figure of 1324m.. equal to about 12.7 per cent, of the total value of exports by the United Kingdom.
[Lord Brabazon on the dangers facing export trade, page 103.]
"DELIVER-OR LOSE ORDERS"
it AR. P. SAUER, South African IV! Minister of Transport, said in the House of Assembly in Cape Town, last week, that about 300 lorries had been ordered from British manufacturers, but there had been long delays in delivery. In one instance, vehicles had not arrived a year after the promised date. Mr. Sauer had fixed delivery dates and if the vehicles were not supplied to time the orders would be cancelled.
On Monday. Albion Motors, Ltd., announced that its shipments of chassis for the South African Railways were ahead of contract. When the present order is completed, nearly 600 chassis will have been supplied since the end of the war.
• SIR DAVID TO SPEAK
THE Institute of Transport is to hold its annual dinner at the Connaught Rooms, London. W.C.2. on March 20. Sir David Maxwell Fyfe, Q.C., M.P., Home Secretary, and Mr. Hugh Gaitskell, C.B.E., M.P., former Chancellor of the Exchequer, will speak.