Council - Threatens High Court Action A the end of the hearing
27th February 1953
Page 33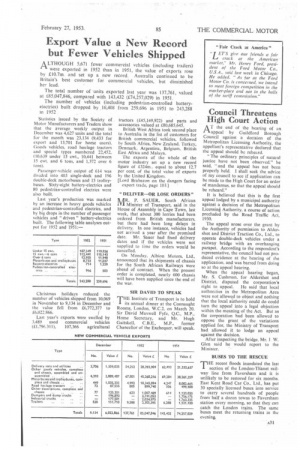 Page 33, 27th February 1953 —
Council - Threatens High Court Action A the end of the hearing
Close
of an appeal by Guildford Borough Council against a decision of the Metropolitan Licensing Authority, the appellant's representative declared that the appeal should be reheard.
"The ordinary Principles of natural justice have not been observed," he said, "and the appeal has not been properly held. I shall seek the advice of my council to see if application can be made to the High Court for an order ref mandamus, so that the appeal should be reheard."
It is believed that this is the first appeal lodged by a municipal authority against a decision of the Metropolitan Licensing Authority, a course of action precluded by the Road Traffic Act, 1930.
The appeal arose over the grant by the Authority of permission to Aldershot and District Traction Co., Ltd., to operate double-deck vehicles under a railway bridge with an overhanging parapet. According to the respondent's representative, the council had not produced evidence at the hearing of the application, and was barred from doing so at the appeal hearing.
When the appeal hearing began, Mr. S. Cushman, for Aldershot and District, disputed the corporation's right to appeal. He said that local authorities in the Metropolitan Area were not allowed to object and nothing that the local authority could do could turn the appeal into a legal objection within the meaning of the Act. But as the corporation had been allowed to oppose the grant of the variations applied for, the Ministry of Transport had allowed it to lodge an appeal against the decision.
After inspecting the bridge, Mr. J W. Glen said he would report to the Minister.
BUSES TO THE RESCUE
THE recent floods inundated the last section of the London-Tlianet railway line from Faversham and it is unlikely to be restored for six months. East Kent Road Car Co., Ltd., has put 30 specialty licensed buses into service to carry several hundreds of people from half a dozen towns to Faversham station every morning, so that they can catch the London trains. The same buses meet the returning trains in the evening.