O BSERNING that he could not recall a similar case in
27th February 1953
Page 32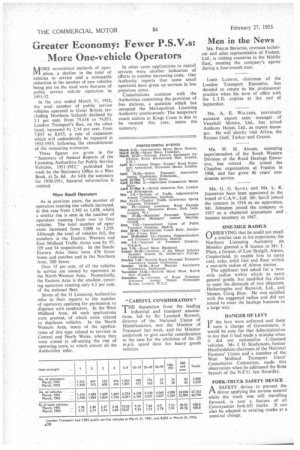 Page 32, 27th February 1953 —
O BSERNING that he could not recall a similar case in
Close
his experience, the NorthernLicensing Authority on Monday granted a B licence to Mr. J. Place, a farmer, of Low Skelgill, Alston, Cumberland, to enable him to carry coal, coke, solid fuel and flour within a one-mile radius of Alston station.
The applicant had asked for a two, mile radius within which to carry general goods, but modified his claim to meet the demands of two objectors, Hetherington and Renwick, Ltd., and Messrs. Craig Bros. He was satisfied with the suggested radius and did not intend to enter the haulage business in a large way.
DANGER OF LEVY
I F the levy were enforced and there were a change of Government, it would be easy for that Administration to say that it had made a mistake when it did not nationalize C-licensed vehicles. Mr. J. H. Scudamore, former Herefordshire chairman of the National Farmers' Union and a member of the West Midland Transport Users' Consultative Committee, made this observation when he addressed the Ross branch of the N.F.U. last Saturday.
FORK-TRUCK SAFETY DEVICE ASAFETY device to prevent the driver applying the reverse control while the truck was still travelling forward, is now a feature of all Conveyancer fork-lift trucks. It can also be adapted to existing trucks at a nominal charge.