Greater Economy: Fewer P.S.V.s: More One-vehicle Operators
27th February 1953
Page 32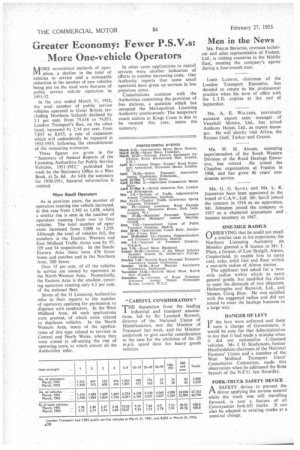 Page 32, 27th February 1953 —
Greater Economy: Fewer P.S.V.s: More One-vehicle Operators
Close
NiToRE economical methods of oper1V1 ation, a decline in the total of vehicles in service and a noticeable reduction in the number of new vehicles being put on the road were features of public service vehicle operation in 1951-52.
In the year ended March 31, 1952, the total number of public service vehicles operated in Great Britain (excluding Northern Ireland) declined by 1.1 per cent. from 75,618 to 74,851. London Transport's fleet, on the other band. increased by 2.54 per cent. from 7,855 to 8,055, a rate of expansion which will undoubtedly be repeated in 1952-1953, following the abandonment of the remaining tramways.
These figures are given in the " Summary of Annual Reports of the Licensing Authoriti:rs for Public Service Vehicles, 1951-1952," published last week by the Stationery Office as a Blue Book, at 2s. 6d. As with the summary for 1950-1951, financial information is mfitted.
More Small Operators
As in previous years, the number of operators running one vehicle increased, in this case from 1,342 to 1,438, whilst a similar rise is seen in the number of operators running from two to four vehicles. The total number of operators increased from 5.000 to 5,239. Although the total of vehicles fell, the numbers in the Eastern, Western end East Midland Traffic Areas rose by 97, 129 and 54 respectively. In the SouthEastern Area there were 476 fewer buses and coaches and in the Northern Area, 200 fewer.
Over 15 per cent, of all the vehicles in service are owned by operators in the North-Western Area. Numerically, the Eastern Area is the smallest, covering operators running only 4.2 per cent. of the national fleet.
Seven of the 11 Licensing Authorities refer in then reports to the number of operators applying for permission to dispense with conductors. In the West Midland Area, 44 such applications were granted, of which some related to duplicate vehicles. In the North Western Area, many of the applications of this type related to services in Central and North Wales, where they were aimed at oft-setting the rise of operating costs, to which almost all the Authorities refer. In other cases applications to curtail services were another indication of efforts to combat increasing costs. One Authority reports that some small operators have given up services in less populous areas.
Consultations continue with the Authorities concerning the provision of bus stations, a question which has occupied the Metropolitan Licensing Authority continuously. The temporary coach station at Kings Cross is due to be vacated this year, states the summa ry,