Standard Rates for Flood Relief Work
27th February 1953
Page 31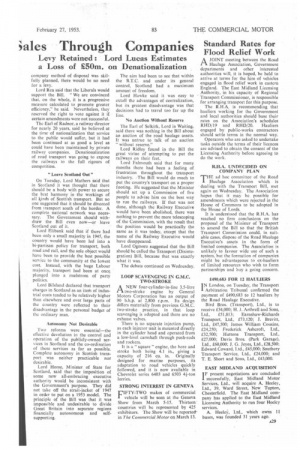 Page 31, 27th February 1953 —
Standard Rates for Flood Relief Work
Close
A JOINT meeting between the Road Pl. Haulage Association, Government departments and other interested authorities will, it is hoped, be held to arrive at terms for the hire of vehicles engaged in flood relief work in eastern England. The East Midland Licensing Authority, in his capacity of Regional Transport Commissioner, is responsible for arranging transport for this purpose.
The R.H.A. is recommending that hauliers working for the Government and local authorities should base their rates on the Association's schedules RHD/19 and R1113/20. Hauliers engaged by public-works contractors should settle terms in the normal way.
Operators who are asked to undertake tasks outside the terms of their licences are advised to obtain the consent of the Licensing Authority before agreeing to do the work.
R.H.A. UNDF.CIDED ON COMPANY PLAN
THE ad hoc committee of the Road Haulage Association which is dealing with the Transport Bill, met again on Wednesday. The Association hopes that it may be possible for amendments which were rejected in the House of Commons to be adopted in the House of Lords.
It is understood that the R.H.A. has reached no firm conclusions on the proposal of the Minister of Transport to amend the Bill so that the British Transport Commission could, in suitable cases, dispose of the Road Haulage Executive's assets in the form of limited companies. The Association is unlikely to favour wide use of such a system. but the formation of companies might be advantageous to ex-hauliers of limited resources who wish to form partnerships and buy a going concern.
£490,683 FOR 12 HAULIERS I N London, on Tuesday, the Transport Arbitration Tribunal confirmed the payment of £490,683 to 12 hauliers by the Road Haulage Executive, Bird Bros. (Transport), Ltd., is to receive £34,000; H, J. Arthrell and Sons, Ltd., £51,813; Earnshaw-Richards Transport, Ltd., £73,120; J. Brevitt, Ltd., £47,500; James William Cousins, 124,250; Frederick Ashcroft, Ltd., 132,500; Huttons Transport, Ltd., £27,000; Davis Bros. (Park Garage), Ltd., £60,000; J. G. /eyes, Ltd., £28,500; Edward Coward, Ltd., £45,000; Southery Transport Service, Ltd., 124,000; and T. E. Short and Sons, Ltd., £43,000.
EAST MIDLAND ACQUISITION
I'present negotiations arc concluded successfully, East Midland Motor Services, Ltd., will acquire A. Heeley, Ltd., 39, Ward Street, New Tupton, Chesterfield. The East Midland company has applied to the East Midland Licensing Authority to run four Heeley services.
A. Heelei, Ltd., which owns 11 buses, was founded 31 years ago.