No Damages for Broken Contract
27th February 1953
Page 30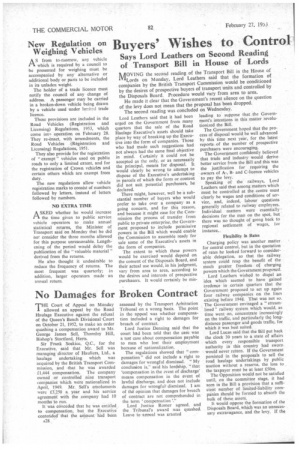 Page 30, 27th February 1953 —
No Damages for Broken Contract
Close
THE Court of Appeal on Monday allowed an appeal by the Road Haulage Executive against the refusal of the Queen's Bench Divisional Court on October 21, 1952, to make an order quashing a compensation award to Mr. George James Sell, Thornley Hill, Bishop's Stortford, Herts,
Sir Frank Soskicc, Q.C., for the Executive, said that Mr. Sell was managing director of Hauliers, Ltd., a haulage undertaking which was acquired by the British Transport Commission, and that he was awarded £1,444 compensation. The company owned or controlled nine transport companies which were nationalized in April, 1949. Mr. Sell's emoluments were £3,250 a year and his service agreement with the company had 10 months to run.
It was conceded that he was entitled to compensation, but the Executive contended that the an ant' had been A28 assessed by the Transport Arbitration Tribunal on a wrong basis. The point in the appeal was whether compensation included a right to damages for breach of contract.
Lord Justice Denning said that the court had been told that the case was a test case about compensation payable to men who lost their employment because of nationalization.
The regulations showed that " compensation " did not include a right to damages for wrongful dismissal. "My conclusion is," said his lordship, "that `compensation in the event of discharge' means compensation in the event of lawful discharge, and does not include damages for wrongfuldismissal. I am of tM opinion that damages for breach of contract are not comprehended in the term 'compensation '."
Lord Justice Romer agreed, and the Tribunal's award was quashed. Leave to -appeal was granted