New Regulation on Weighing Vehicles
27th February 1953
Page 30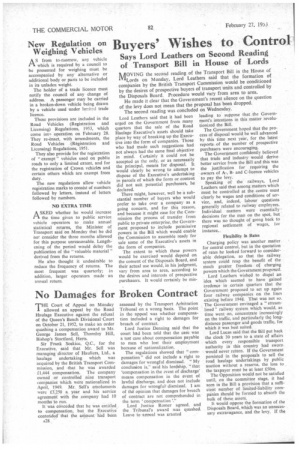 Page 30, 27th February 1953 —
New Regulation on Weighing Vehicles
Close
As from to-morrow, any vehicle which is required by a council to -be presented for weighing must be accompanied by any alternative or additional body or parts to be included in its unladen weight.
The holder of a trade licence must notify the council of any change of address. A passenger may be carried in a broken-down vehicle being drawn by a vehicle used under limited trade licence.
These provisions are included in the Road Vehicles (Registration and Licensing) Regulations, 1953, which come into operation on February 28. They re-enact, with amendments, the Road Vehicles (Registration and Licensing) Regulations, 1951.
They also provide for the registration of " exempt " vehicles used on public roads to only a limited extent, and for the registration of Crown vehicles and certain others which are exempt from duty.
The new regulations allow vehicle registration marks to consist of numbers followed by letters, instead of letters followed by numbers.
NO EXTRA TIME
ASKED whether he would increase the time given to public service vehicle operators to make annual statistical returns, the Minister of Transport said on Monday that he did not consider the three months allowed for this purpose unreasonable. Lengthening of the period would delay the publication of the "valuable material" derived from the returns.
He also thought it undesirable to reduce the frequency of returns. The most frequent was quarterly; in addition, larger operators made an annual return.