Exports At a Price
27th February 1953
Page 28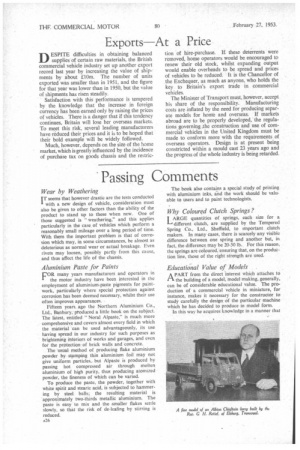 Page 28, 27th February 1953 —
Exports At a Price
Close
DESPITE difficulties in obtaining balanced supplies of certain raw materials, the British commercial vehicle industry set up another export record last year by increasing the value of shipments by about £1.0m. The number of units exported was smaller than in 1951, and the figure for that year was lower than in 1950, but the value of shipments has risen steadily.
Satisfaction with this performance is tempered by the knowledge that the increase in foreign• currency has been earned only by raising the prices of vehicles. Then is a danger that if this tendency continues, Britain will lose her overseas markets. To meet this risk, several leading manufacturers have reduced their prices and it ia to be hoped that their bold example will be widely followed.
Much, however, depends on the size of the home market, which is greatly influenced by the incidence of purchase tax on goods chassis and the restric tion of hire-purchase. If. these deterrents were removed, home operators would be encouraged to renew their old stock, whilst expanding output would enable overheads to be spread and prices of vehicles to be reduced. It is the Chancellor of the Exchequer, as much as anyone, who holds the key to Britain's export trade in commercial vehicles.
The Minister of Transport must, however, accept his share of the responsibility. Manufacturing costs are inflated by the need for producing separate models for horrre and overseas. If markets abroad are to be properly developed, the regulations governing _the construction and use of commercial vehicles in the United Kingdom must be made to conform more with the requirements of overseas operators. Design is at present being constricted within a mould cast 23 years ago and the progress of the whole industry is being retarded.