Personal Pars
27th December 1940
Page 16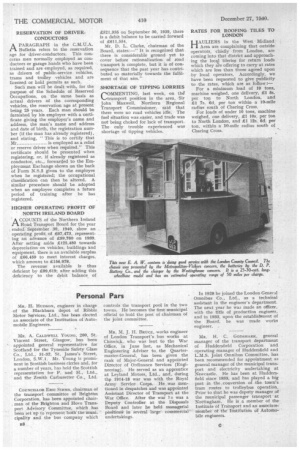 Page 16, 27th December 1940 —
Personal Pars
Close
MR. H; HUDSON, engineer in charge of the Blackburn depot of Ribble Motor Services, Ltd., has been elected an associate of the Institution of Automobile Engineers.
MR. A. CALDWELL YOUNG, 200, St. Vincent Street, Glasgow, has been appointed general representative for Scotland for the Tyneside Safety Glass Co., Ltd., 31-32, St. James's Street, London, S.W.1. Mr. Young is prominent in Scottish business circles and, for a number of years, has held the Scottish representation for P. and H., Ltd., and the Zenith Carburetter Co., Ltd.
COUNCILLOR ERIC SIMMS, chairman of the transport committee of Brightbn Corporation, has been appointed chairman of the Brighton and Hove Transport Advisory Committee, which has been set up to represent both the municipality and the bus company which
controls the transport pool in the two towns. He becomes the first municipal official to hold the post of chairman of the joint committee.
Ma. M. J. H. BRUCE, works engineer of London Transport's bus works at Chiswick, who was Tent to the War Office, in June last, as Mechanical Engineering Adviser to the Quartermaster-General, has been given the rank of Major-General and appointed Director of Ordinance Services (Engineering). He served as an apprentice at Leyland Motors, Ltd., and, during thp 1914-18 war was with the Royal Army Service Corps. He was mentioned in despatches and was appointed Assistant Director of Transport at the War Office. After the war le was a Deputy Controller at the Disposals Board and later he held managerial pasitionS in several large commercial undertakings.
In 1928 he joined the London General Omnibus Co., Ltd., as a technical assistant in the engineer's department. The next year he was made an officer, with the title of production engineer, and in 1933, upon the establislament of the Board, he was made works engineer.
Ma. H. C. GoosmARK, general manager of the transport department of Huddersfield Corporation 'and operating manager of Huddersfield and L.M.S. Joint Omnibus Committee, has been recommended for appointment as general manager of the municipal transport and electricity undertaking at Newcastle. He has been at Huddersfield since 1933, and has played a big part in the conversion of the town's tram routes to trolleyhus operation. Prior to that he was deputy manager of the municipal passenger transport at Nottingham. He is a member of theInstitute of Transport and an associatemember of the Institution of Automobile engineers.