Bid to Overcome Meat Distribution Difficulties
27th December 1940
Page 15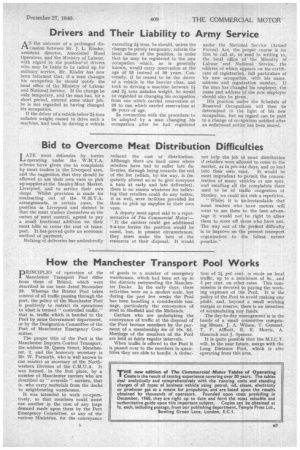 Page 15, 27th December 1940 —
Bid to Overcome Meat Distribution Difficulties
Close
LATE meat deliveries by lorries operating under the W.M.T.A.. scheme have given rise to complaints by meat traders in the Liverpool area, and the suggestion that they should be allowed to use their own vans to pick up supplies at the Stanley Meat Market. Liverpool, and to service their own shops'. Whilst provision is made for contracting out of the W.M.T.A. arrangements, in certain cases, the position in Liverpool and district is that the meat traders themselves at the outset of meat control, agreed to pay a small fractional addition on their meat bills to cover the cost of transport. It has proved quite an economic method of payment.
Bulking of deliveries has undoubtedly reduced the cost of distribution. Although there are hard cases where retailers have had to suffer late deliveries, through being towards the end of the list (which, by the way, is frequently altered so as to give everyone a turn at early and late deliveries), there is no reason whatever for believing that retailers could do any better, if as well, were facilities provided for them to pick up supplies in their own vans. "
A deputy meat agent said to a representative of The Commercial Motor:— " If the carriers could get additional 3-4-ton lorries the position would be eased, but, in present circumstances, they must make the best of the resources at their disposal, It would,
not help the job of meat distribution if retailers were allowed to come to the market, as in pre-war days, and to load into their own vans. It would he most imprudent to permit the concentration of many vehicles at one spot, and recalling all the complaints there used to be of traffic congestion at Stanley, we could not risk a repetition, " Whilst it is understandable that meat traders who have motors will want to use them to the best advantage it would not be right to allow them to score off those who have not. The way out of the present difficulty is to improve on the present transport organization to the fullest extent possible."