COAL-GAS CONVERSIONS.
27th December 1917
Page 21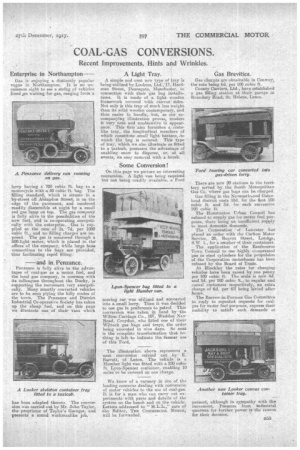 Page 21, 27th December 1917 —
COAL-GAS CONVERSIONS.
Close
Recent Improvements, Hints and Wrinkles.
Enterprise in Northampton— Gas is enjoying a distinctly popular vogue in Northampton. It is no uncommon sight to see a string of vehicles lined am waiting for gas, ranging frorata
lorry having a 700 cubic ft. bag • to a motorcycle with a 40 cubic ft. bag. The filling standard, which is situate in a by-street off Abingdon Street, is an the edge of the pavement, and rendered readily discernible at night by a small red gas lamp an top. The gas company is fully alive to the possibilities of the new fuel, and is co-operating _energetically with the enterprise. Gas is supplied at the rate of 2s. 7d. per 1000 cubic ft., and no filling charges are •irm posed. The gas is measured through a 500-light meter, which is placed in th4 offices of the company, while large .hose connections to the bags are provided, thus facilitating rapid filling.
—and in. Penzance.
Penzance is fully alive t& the advantages of coal-gas as a motor, fuel, and the local gas company, in common with its Colleagues throughout the Duchy, is supporting the movement 'very energetically. Many smartly converted vehicles are to be seen plying the hilly routes of the town. The Penzance . and District Industrial Co-operative Society has taken up the cheap fuel, and on this page we ilastrate one of their vans which
has been adapted thereto. The conversion was carried out by Mr. John Taylor, the proprietor of 'Taylor's Garages, and presents a sound workmanlike sob.
A Light Tray.
, A simple and neat new type of tray is being utilized by Lookers, Ltd:, 17, Hardman Street, Deansgate, Manchester, in connection with their gas bag installations. It is made of 'a light wooden framework covered with canvas sides. Not only is this tray of much less weight than its solid wooden contemporary, and thus easier to handle, bat, as our . accompanying illustration proves, renders it very' neat and unobtrusive in appearance: This irm-also furnishes a cratelike tray, the longitudinal members of which constitute .small light battens, -to which the hag is secured: This type of tray, which we also illustrate as fitted to a taxicab, possesses the advantage of enabling snow to disperse, or, at all events, its easy removal with a brush.
Some Conversion!
On this page we picture an interesting conversion. A light van being required but not being readily available, a Ford
touring car was utilized and eonverted into a small lorry. Then it was decided -to use gas in preference to petrol. This conversion, was taken itt hand by • the Wilton Carriage Co., 107, 'Waddon New Road, Croydon, who fitted one of their Wiltuek gas bags and trays; the order being executed in. nine days. So neat is the complete transformation that nothing is left to indicate the learner use of this Ford.
The illustration above . represents a neat conversion carried out by E. Barrett, of Luton. The vehicle is a Humber light van fitted with a 200 cubic ft. Lynn-Spencer container, enabling 10 miles to be covered on one charge.
We know of a vacancy in One Of the leading concerns dealing with conversion of motor vehicles to the use of coal-gas. It is for 'a man who can carry out experiments with parts and details of the system on the bench and on the vehicle. Letters addressed to " H.L.L.," care of the' Editor, Ter Comm/tam, IlloToR,
will be forwarded. a •
Gas Brevities.
Gas charges are obtainable in Conway-, the rate being 6d. per 100 cubic ft.
County. Carriers, Ltd., have established a gas filling station: at their garage in Boundary Road, St. Helens, Lancs.
There are now 20 stations in the territory served by the South Metropolitan Gas Co. where gas bags can he, charged.
Gas filling in the Newcastle.and Gateshead district costs 10d. for the first 100 euloic ft., and 5d. for each successive 100 cubic ft.
The Hunstanton Urban Council has refused to supply gas. for motor fuel purposes, there being an insufficient supply to meet domestic demands. The Corporation of Leicester has placed an order with the Carlton Motor Service, 20, Regent Street, Londen, S.W. 1., for a number of their containers.
The application of the Eastbourne Town Council to use highly. compressed 'gas in steel cylinders for the propulsion of the Corporation motorbuses has been refused by the Board of Trade.
At Hinckley the rates for charging vehicles have been raised by one penny per 100 cubic ft. The scale is now 4d. and 5d. per 1.00 cubic ft., to regular and casual customers respectively, an extra charge of 6d, per fill being levied after hours.
The Barrow-in-Furness Gas Committee in reply to repeated requests for coalgas for motor fuel purposes, express their inability to satisfy such demands at present, although in sympathy with the' movement, Pressure from icaclustrial quarters for further power is the reason for their decision.