lohn Wells hits
27th August 1976
Page 7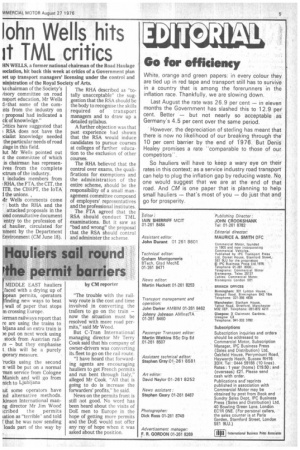 Page 7, 27th August 1976 —
lohn Wells hits
Close
it TML critics FIN WELLS, a former national chairman of the Road Haulage iodation, hit back this week at critics of a Government plan set up transport managers' licensing under the control and ninistration of the Royal Society of Arts.
sis chairman of the Society's Tisory committee on road nsport education, Mr Wells that some of the comas from the industry on proposal had indicated a ck of knowledge."
:ritics have suggested that RSA does not have the cialist knowledge needed the particular needs of road Age in this field.
3ut Mr Wells pointed out 1 the committee of which is chairman has represenives from the complete ctrum of the industry.
t includes members from !RHA, the FTA, the CIT, the ITB, the CBRPT, the IoTA i the unions., dr Wells comments come both the RHA and the attacked proposals in the ond consultative document entry to the profession of id haulier, circulated for nment by the Department Environment (CM June 18). The RHA described as "totally unacceptable" the suggestion that the RSA should be the body to recognise the skills required of transport managers and to draw up a detailed syllabus.
A further objection was that past experience had shown that the RSA would induce candidates to pursue courses at colleges of further education to the exclusion of other courses.
The RHA believed that the control over exams, the qualifieations for exemptions and the administration of the entire scheme, should be the responsibility of a small management committee composed of employers' representatives and the professional institutes.
The FTA agreed that the RSA should conduct TML examinations. But it saw as "bad and wrong" the proposal that the RSA should control and administer the scheme