security
27th August 1971
Page 46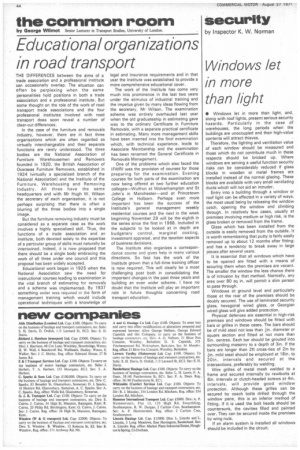 Page 46, 27th August 1971 —
security
Close
by Inspector K. W. Norman
Windows let in more than light
• Windows let in more than light, and, along with roof lights, present serious security hazards. Particularly in the case of warehouses, the long periods when the buildings are unoccupied and their high-value contents will attract thieves.
Therefore, the lighting and ventilation value of each window should be measured and those which do not contribute much in these respects should be bricked up. Where windows are serving a useful function security risks can be considerably reduced if glass blocks in wooden or metal frames are installed instead of the normal glazing. These blocks are available with very small ventilating ducts which will not aid an intruder.
Entry into a building through a window or roof light can be effected in a variety of ways, the most usual being by releasing the window catch, opening the window and climbing through. In relatively few cases, usually at premises involving medium or high risk, is the glass broken or removed from the frame.
Glass which has been installed from the outside is easily removed from the outside. It is worth remembering that putty is fairly easily removed up to about 12 months after fitting; and has a tendency to break away in large pieces after several years.
It is essential that all windows which have to be opened are fitted with a means of securing them when the premises are vacant. The smaller the window the less chance there is of intrusion by that method. Normally, any area over 80 sq in. will permit a slim person to pass through.
Windows at ground level and particularly those at the rear of the premises should be doubly secured. The use of laminated security glass, hexagonal wired glass, or Georgian wired glass will give added protection.
Physical defences are essential in high-risk premises and windows should be fitted with bars or grilles in these cases. The bars should be of mild steel not less than _;in. diameter or square section and fitted at not more than 5in. centres. Each bar should be grouted into surrounding masonry to a depth of 3m. If the bars are longer than 2ft cross-ties of 2in by mild steel should be employed at 18in. to 20in, intervals and secured at the intersections, preferably by welding.
Wire grilles of metal mesh welded to a frame and secured internally by rawlbolts at 6in, intervals or clutch-headed screws at 4in. intervals, will provide good window protection. Although these grilles can be secured by coach bolts drilled through the window pane, this is an inferior method of fitting. If it is used the bolt heads should be countersunk, the cavities filled and painted over. They can be secured inside the premises by wing nuts, If an alarm system is installed all windows should be included in the circuit.