Tippers:
27th August 1971
Page 45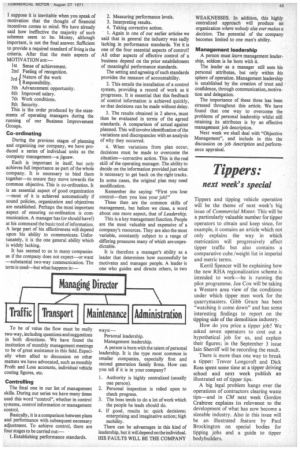 Page 45, 27th August 1971 —
Tippers:
Close
next week's special
Tippers and tipping vehicle operation will be the theme of next week's big issue of Commercial Motor. This will be a particularly valuable number for tipper operators to obtain and keep since, for example, it contains an article which not only explains the way in which metrication will progressively affect tipper traffic but also contains a comparative cube /weight list in imperial and metric terms.
Kern! Spencer will be explaining how the new RHA regionalization scheme is intended to work—he is running the pilot programme. Joe Cox will be taking a Western area view of the conditions under which tipper men work for the quarrymasters. Gibb Grace has been "watching it come downand has some interesting findings to report on the tipping side of the demolition industry.
How do you price a tipper job? We asked seven operators to cost out a hypothetical job for us, and explain their figures; in the September 3 issue lain Sherriff will be recording the result.
There is more than one way to break a tipper: Trevor Longcroft and Dick Ross spent some time at a tipper driving school and next week publish an illustrated set of tipper tips.
A big legal problem hangs over the operations of contractors clearing waste tips—and in CM next week Gordon Crabtree explains its relevance to the development of what has now become a sizeable industry. Also in this issue will be an illustrated feature by Paul Brockington on special bodies for tipping jobs and a guide to tipper bodybuilders.