Q We all know that 1971 is proving a really
27th August 1971
Page 43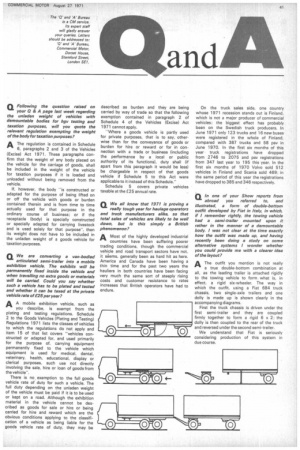 Page 43, 27th August 1971 —
Q We all know that 1971 is proving a really
Close
tough year for haulage operators and truck manufacturers alike, so that total sales of vehicles are likely to be well down, but is this simply a British phenomenon?
A Most of the highly developed industrial
countries have been suffering poorer trading conditions, though the commercial vehicle and road transport sectors have not, it seems, generally been as hard hit as here. America and Canada have been having a thin time and for the past two years the hauliers in both countries have been facing very much the same sort of steeply rising costs and customer resistance to rates increases that British operators have had to endure. On the truck sales side, one country whose 1971 recession stands out is Finland, which is not a major producer of commercial vehicles; the biggest effect has probably been on the Swedish truck producers. In June 1971 only 123 trucks and 16 new buses were registered in the whole of Finland, compared with 387 trucks and 58 psv in June 1970. In the first six months of this year truck registrations have dropped from 2746 to 2075 and pay registrations from 347 last year to 195 this year. In the first six months of 1970 Volvo sold 512 vehicles in Finland and Scania sold 469; in the same period of this year the registrations have dropped to 385 and 346 respectively.