Q In one of your Show reports from
27th August 1971
Page 43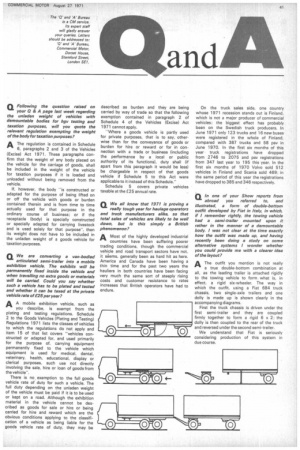 Page 43, 27th August 1971 —
Q In one of your Show reports from
Close
abroad you referred to, and illustrated, a form of double-bottom outfit developed by Fiat in Italy, in which, if I remember rightly, the towing vehicle had a semi-trailer mounted upon it rather in the manner of a demountable body. I was not clear at the time exactly how the outfit was made up, and having recently been doing a study on some alternative systems I wonder whether you could provide me with a clearer idea of the layout?
AThe outfit you mention is not really
a true double-bottom combination at all, as the leading trailer is attached rigidly to the towing vehicle to form what is, in effect, a rigid six-wheeler. The way in which the outfit, using a Fiat 684 truck chassis, two single-axle trailers and one dolly is made up is shown clearly in the accompanying diagrams.
First the truck chassis is driven under the first semi-trailer and they are coupled firmly together to form a rigid 6 x 2; the dolly is then coupled to the rear of the truck and reversed under the second semi-trailer.
We understand that Fiat is seriously considering production of this system in due course.