Q Following the question raised on
27th August 1971
Page 43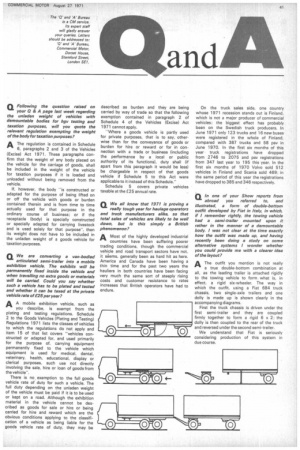 Page 43, 27th August 1971 —
Q Following the question raised on
Close
your Q & A page last week regarding the unladen weight of vehicles with demountable bodies for hgv testing and taxation purposes, will you quote the relevant regulation exempting the weight of the body for taxation purposes?
A The regulation is contained in Schedule
6, paragraphs 2 and 3 of the Vehicles (Excise) Act 1971. These paragraphs confirm that the weight of any body placed on the vehicle for the carriage of goods, shall be included in the weight of the vehicle for taxation purposes if it is loaded and unloaded without being removed from the vehicle.
If, however, the body is constructed or adapted for the purpose of being lifted on or off the vehicle with goods or burden contained therein and is from time to time actually used for that purpose in the ordinary course of business; or if the receptacle (body) is specially constructed or specially adapted for carrying livestock and is used solely for that purpose", then its weight does not have to be included in the unladen weight of a goods vehicle for taxation purposes.