Is the law an ass?
27th August 1971
Page 42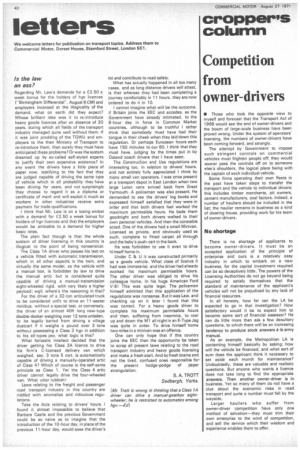 Page 42, 27th August 1971 —
Is the law an ass?
Close
Regarding Mr. Law's demands for a £2.50 a week bonus for the holders of hgv licences I"Birmingham Differential", August 6 CM) and employers incensed at the illogicality of the demand, what on earth did they expect? Whose brilliant idea was it to re-introduce heavy goods licences after an absence of 30 years, during which all fields of the transport industry managed quite well without them. If it was joint prodding of the TGWU and employers to the then Ministry of Transport to re-introduce them, then surely they must have anticipated these problems? Or was the system dreamed up by so-called self-styled experts to justify their own expensive existence? In any event the drivers have a little piece of paper now, testifying to the fact that they are judged capable of driving the same type of vehicle which in all probability they have been driving for years, and not surprisingly they choose to regard it as a diploma or certificate of merit and will exploit it much as workers in other industries receive extra payment for trade qualifications.
think that Mr. Law is on a losing wicket with a demand for £2.50 a week bonus for holders of hgv licences and that the employers would be amicable to a demand for higher basic rates.
The plain fact though is that the whole system of driver licensing in this country is illogical to the point of being nonsensical.
The Class 1A driver who passes his test on a vehicle fitted with automatic transmission, which in all other aspects is the twin, and virtually the same model, as the vehicle with a manual box, is forbidden by law to drive the manual artic but is considered quite capable of driving a manual-transmission eight-wheeled rigid, with very likely a higher payload; well, where's the reasoning in that?
For the driver of a 32-ton articulated truck to be considered unfit to drive an 11-seater minibus, without a special test, or conversely, the driver of an almost 40ft long new-type double-decker weighing over 12 tons unladen, to be legally barred from driving a village dustcart if it weighs a pound over 3 tons without possessing a Class 3 hgv in addition to his all-types psv, what logic is this?
What fantastic intellect decided that the driver getting his Class 3A licence to drive his firm's C-licensed delivery van which weighed. say, 3 tons 5 cwt. is automatically capable of driving a manually-operated artic of Class 4? Which of course is the self-same principle as Class 1. Yet the Class 4 artic driver cannot legally drive the four-wheeled van. What utter rubbish !
Laws relating to the freight and passenger road transport industry in this country are riddled with anomalies and ridiculous regulations.
Take the Acts relating to drivers' hours. I found it almost impossible to believe that Barbara Castle and the previous Government could be so naive as to imagine that the introduction of the 10-hour day, in place of the previous 11-hour day, would ease the driver's lot and contribute to road safety.
What has actually happened in all too many cases, and as long distance drivers will attest, is that whereas they had been completing a journey comfortably in 11 hours, they are now ordered to do it in 10.
I cannot imagine what will be the outcome, if Britain joins the EEC and accedes, as the Government have already intimated, to the 8-hour day in force in Common Market countries, although to be truthful I rather think that somebody must have had their tongue in their cheek when they laid down this regulation. Or perhaps European hours each have 150 minutes to our 60. I think that they must have, judging by the times put in by Ostend coach drivers that I have seen.
The Construction and Use regulations are interesting too, in relation to drivers' hours, and not entirely fully appreciated I think by many small van operators. I was once present at a transport depot in East London when two large Luton vans arrived back from Great Yarmouth. A policeman was also present. He demanded to see the drivers' log books and expressed himself satisfied that they were in order and that both drivers had worked the maximum permissible hours. He bade them goodnight and both drivers walked to their own personal vehicles. And then the constable acted. One of the drivers had a small Minivan. Licensed as private, and obviously used as such, complete to fitted carpet all through and the baby's push-cart in the back.
He was forbidden to use it even to drive himself home in.
Under C & U it was constructed primarily as a goods vehicle. What class of licence it had was immaterial, and the driver had already worked his maximum permissible hours. The other driver was obliged to drive his colleague home. In his huge American Ford V-8! This was quite legal. The policeman himself admitted that this application of the regulations was nonsense. But it was Law, and checking up on it later I found that this was correct. For a heavy goods driver to complete his maximum permissible hours and then, suffering from insomnia, to roar up and down the M1 all night in an E-Type Jag was quite in order. To drive himself home two miles in a minivan was an offence.
One can only hope that if this country joins the EEC then the opportunity be taken to scrap all present laws relating to the road transport industry and heavy goods licensing and make a fresh start. And by fresh brains and not the tired, confused ones responsible for. the present hodge-podge of paper strangulation.
S. A. THOU Sedbergh, Yorks.
[Mr. Trott is wrong in thinking that a Class 1,1 driver can drive a manual-gearbox eightwheeler; he is restricted to automatics among hgv.—Ed]