cropper's column
27th August 1971
Page 42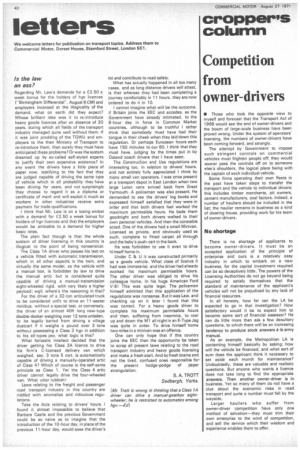 Page 42, 27th August 1971 —
cropper's column
Close
Competition from owner-drivers
• Those who took the opposite view to myself and forecast that the Transport Act of 1968 would see the end of owner-drivers and the boom of large-scale business have been proved wrong. Under the system of operators' licensing, the numbers of owner-drivers have been coming forward, and strongly.
The attempt by Government to impose such stringent controls on commercial vehicles must frighten people off: they would sooner pass the controls off on to someone else's shoulders, the logical place being with the captain of each individual vehicle.
Some firms operating their own fleets in the past have taken steps to transfer the transport and the vehicle to individual drivers: this includes timber merchants, pit owners, cement manufacturers, coal factors. Indeed, a number of hauliers should be included in the list; the haulier remains in business as a kind of clearing house, providing work for his team of owner-drivers.
No shortage
There is no shortage of applicants to become owner-drivers. It must be an accepted application of the principle of enterprise and ours is a relatively easy industry in which to embark on a new business, for the capital investment required can be so deceptively little. The powers of the Licensing Authorities do not go beyond being required to satisfy themselves that the standard of maintenance of the applicant's vehicles will not be prejudiced by any lack of financial resources.
In all honesty, how far can the LA be expected to go in that investigation? How satisfactory would it be to expect him to become some sort of financial assessor? He can do little more than ask a few desultory questions, to which there will be an increasing tendency to produce stock answers a la army manual.
As an example, the Metropolitan LA is contenting himself basically by asking: how will the vehicle be financed, and what sort of sum does the applicant think it necessary to set aside each month for maintenance? Undoubtedly, these are valuable and realistic questions. But anyone who wants a licence does not take long to find the appropriate answers. Then another owner-driver is in business. Yet so many of them do not have a clue about the economic risks in road transport and quite a number must fall by the wayside.
Larger hauliers who suffer from owner-driver competition have only one method of salvation—they must trim their own enterprise to the wind of competition, and sell the service which their wisdom and experience enables them to offer.