topic
27th August 1971
Page 39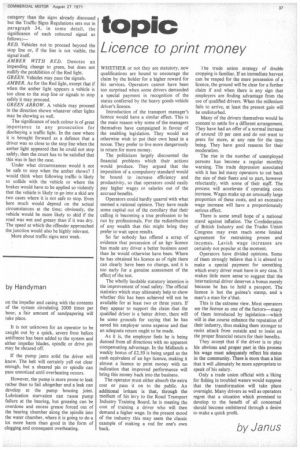 Page 39, 27th August 1971 —
topic
Close
Licence to print money
WHETHER or not they are statutory, new qualifications are bound to encourage the claim by the holder for a higher reward for his services. Operators cannot have been too surprised when some drivers demanded a special payment in recognition of the status conferred by the heavy goods vehicle driver's licence.
Introduction of the transport manager's licence would have a similar effect. This is the main reason why some of the managers themselves have campaigned in favour of the enabling legislation. They would not otherwise wish to put their own head in a noose. They prefer to live more dangerously in return for more money.
The politicians largely discounted the financial problems which their actions would produce. They argued that the imposition of a compulsory standard would be bound to increase efficiency and productivity, so that operators could easily pay higher wages or salaries out of the accrued benefits.
Operators could hardly quarrel with what seemed a rational opinion. They have made some capital out of the corollary that their calling is becoming a true profession to be run by professionals. For the redistribution of any wealth that this might bring they prefer to wait upon results.
So far nobody has offered a scrap of evidence that possession of an hgv licence has made any driver a better business asset than he would otherwise have been. Where • he has obtained his licence as of right there can clearly have been no change, and it is too early for a genuine assessment of the effect of the test.
The wholly laudable statutory intention is the improvement of road safety. The official statistics which may ultimately help to show whether this has been achieved will not be available for at least two or three years. If they appear to support the claim that the qualified driver is a better driver, there will be some grounds for saying that he has saved his employer some expense and that an adequate return ought to be made.
As it is, the employer feels he is being dunned from all directions with no apparent compensating advantage. In the Midlands a weekly bonus of £2.50 is being urged as the cash equivalent of an hgv licence, making it almost a licence to print money with no indication that improved performance will bring this money back into the business.
The operator must either absorb the extra cost or pass it on to the public. An additional irritant is that, through the medium of his levy to the Road Transport Industry Training Board, he is meeting the cost of training a driver who will then demand a higher wage. In the present mood of the industry this may seem the classic example of making a rod for one's own back. "I he trade union strategy of double cropping is familiar. If an immediate harvest can be reaped for the mere possession of a licence, the ground will be clear for a further claim if and when there is any sign that employers are finding advantage from the use of qualified drivers. When the millenium fails to arrive, at least the present gain will be undisturbed.
Many of the drivers themselves would be content to settle for a different arrangement. They have had an offer of a normal increase of around 10 per cent and do not want to press for more, at any rate for the time being. They have good reasons for their moderation.
The rise in the number of unemployed persons has become a regular monthly warning. The trade depression associated with it has led many operators to cut back the size of their fleets and to part, however reluctantly, with some of their staff. The process will accelerate if operating costs increase. Wages make up an unusually large proportion of these costs, and an excessive wage increase will have a proportionately serious effect.
There is some small hope of a national stand against inflation. The Confederation of British Industry and the Trades Union Congress may even reach some limited agreement for restraining proces and incomes. Lavish wage increases are certainly not popular at the moment.
Operators have divided opinions. Some of them strongly believe that it is absurd to make a special payment for something which every driver must have in any case. It makes little more sense to suggest that the international driver deserves a bonus merely because he has to hold a passport. The licence is but the guinea's stamp, and a man's a man for a'that.
This is the extreme view. Most operators see the licence as one of the factors—many of them introduced by legislation—which will in due course enhance the reputation of their industry, thus making them stronger to .resist attack from outside and to insist on the proper financial return for their benefits.
They accept that if the driver is to play his obvious and proper part in this process his wage must adequately reflect his status in the community. There is more than a hint that it will ultimately be more appropriate to speak of his salary.
Only a trade union official with a liking for fishing in troubled waters would suppose that the transformation will take place overnight. Many drivers as well as operators regret that a situation which promised to develop to the benefit of all concerned should become embittered through a desire to make a quick profit.
by Janus