me !Nest
27th August 1971
Page 34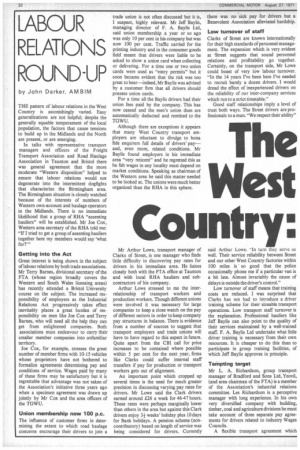 Page 35
Page 34, 27th August 1971 —
me !Nest
Close
a
ountry:
specia report
LABOUR RELATIONS ROUND UP
by John Darker, AMBIM THE pattern of labour relations in the West Country is astonishingly varied. Easy generalizations are not helpful; despite the generally equable temperament of the local population, the factors that cause tensions to build up in the Midlands and the North are present, or are emerging.
In talks with representative transport managers and officers of the Freight Transport Association and Road Haulage Association in Taunton and Bristol there was general agreement that the more moderate "Western disposition" helped to ensure that labour relations would not degenerate into the intermittent dogfights that characterize the Birmingham area. The Birmingham situation is closely watched because of the interests of numbers of Western own-account and haulage operators in the Midlands. There is no immediate likelihood that a group of RHA "assenting hauliers" will be established. Mr Joe Cox, Weatern area secretary of the RHA told me: "If I tried to get a group of assenting hauliers together here my members would say 'what for?"
Getting into the Act Great interest is being shown in the subject of labour relations by both trade associations. Mr Terry Barnes, divisional secretary of the FTA (whose region broadly covers the Western and South Wales licensing areas) has recently attended a Bristol University course on the subject. The increased responsibility of employers as the Industrial Relations Act progressively takes effect inevitably places a great burden of responsibility on men like Joe Cox and Terry Barnes, who will need all the help they can get from enlightened companies. Both associations must endeavour to carry their smaller member companies into unfamiliar territory.
Joe Cox, for example, stresses the great number of member firms with 10-15 vehicles whose proprietors have not bothered to formalize agreements determining pay and conditions of service. Wages paid by many of these firms may be satisfactory but it is regrettable that advantage was not taken of the Association's initiative three years ago when a specimen agreement was drawn up jointly by Mr Cox and the area officers of the TGWU.
Union membership now 100 p.c.
The influence of customer firms in determining the extent to which road haulage concerns encourage their drivers to join a trade union is not often discussed but it is, I suspect, highly relevant. Mr Jeff Baylis, managing director of F. A. Baylis Ltd, said union membership a year or so ago was only 10 per cent in his company but was now 100 per cent. Traffic carried for the printing industry and in the consumer goods field meant that drivers were liable to be asked to show a union card when collecting or delivering. For a time one or two union cards were used as "entry permits" but it soon became evident that the risk was too great to bear—indeed, Mr Baylis was advised by a customer firm that all drivers should possess union cards.
For a time all the Baylis drivers had their union fees paid by the company. This has now ceased and the men's union dues are automatically deducted and remitted to the TGWU.
Although there are exceptions it appears that many West Country transport employers are reluctant to divulge to bona fide enquirers full details of drivers' pay— and, even more, related conditions. Mr Baylis found employers in his immediate area "very reticent" and he regretted this as he felt wages in any locality must depend on market conditions. Speaking as chairman of the Western area he said this matter needed to be looked at. The unions were much better organized than the RHA in this sphere.
Mr Arthur Lowe, transport manager of Clarks of Street, is one manager who finds little difficulty in discovering pay rates for drivers in his immediate area. He liaises closely both with the ETA office at Taunton and with local RHA hauliers and subcontractors of his company.
Arthur Lowe stressed to me the interrelationship of transport workers and production workers. Though different unions were involved it was necessary for large companies to keep a close watch on the pay of different sectors in order to keep company pay structures in balance. There is evidence from a number of sources to suggest that transport employers and trade unions will have to have regard to this aspect in future. Quite apart from the CBI call for price increases to be contained where possible within 5 per cent for the next year, firms like Clarks could suffer internal staff transfers if pay for production or transport workers gets out of alignment.
An important point which cropped up several times is the need for much greater precision in discussing varying pay rates for drivers. Mr Lowe said the Clark drivers earned around £26 a week for 46-47 hours. These rates were perhaps marginally lower than others in the area but against this Clark drivers enjoy 34 weeks' holiday plus 10 days for Bank holidays. A pension scheme (noncontributory) based on length of service was being considered for drivers. Currently there was no sick pay for drivers but a Benevolent Association alleviated hardship.
Low turnover of staff
Clarks of Street are known internationally for their high standards of personnel management. The expansion which is very evident at -Street suggests that sound personnel relations and profitability go together. Certainly, on the transport side, Mr Lowe could boast of very low labour turnover. "In the 14 years I've been here I've needed to recruit barely a dozen drivers. I would dread the effect of inexperienced drivers on the reliability of our inter-company services which run to a strict timetable."
Good staff relationships imply a level of trust both ways. The Street drivers are professionals to a man. "We respect their ability" said Arthur Lowe. In turn they serve us well. Their service reliability between Street and our other West Country factories within 100 miles is ' so good that the police occasionally phone me if a particular van is a bit late. Almost invariably the cause of delays is outside the driver's control."
Low turnover of staff means that training costs are reduced. I was surprised that Clarks has not had to introduce a driver training scheme for their sizeable transport operations. Low transport staff turnover is the explanation. Professional hauliers like Jeff Baylis can also point to the quality of their services maintained by a well-trained staff. F. A. Baylis Ltd undertake what little driver training is necessary from their own resources. It is cheaper to do this than to participate in group training facilities, of which Jeff Baylis approves in principle.
Tempting target Mr L. A. Richardson, group transport manager of Bradford and Sons Ltd, Yeovil, (and area chairman of the FTA) is a member of the Association's industrial relations committee. Les Richardson is a perceptive manager with long experience. In his own very diversified company with building, timber, coal and agriculture divisions he must take account of three separate pay agreements for drivers related to industry Wages Councils.
A flexible transport agreement which made all the company's drivers interchangeable regardless of commodity carried or home depot could lead to up to 25 per cent savings in costs. It is a tempting target but to achieve it a centralized transport department would be necessary.
Marked changes in attitudes would also be called for. For example, drivers who have recently undergone training in the identification of timber in the new metric sizes— the old 4 x 2 is now outdated—might reasonably object to undertaking coal haulage, which is a dirty, arduous business under the best circumstances. This said, there is no fundamental reason why the kind of flexible manning agreements negotiated in the fuel tanker field should not operate in a firm like Bradford and Sons Ltd where transport is a vital element in commercial viability.
Shattering inefficiency Mr Ted Watkin, who has overall res ponsibility for transport for the Relyon mattress concern at Wellington, Somerset, is exceptionally fitted to contribute to labour relations discussions by virtue of a spell as a senior manpower adviser of the Department of Employment. In this capacity he made a lively impact on many audiences—including the FTA—when he spoke about the services available from the department. Some found his suggestions about transport efficiency as low as 40 per cent somewhat shattering.
Ted Watkin believes that most of the larger transport departments of West Country firms are pretty good at handling driving staffs, chiefly because so many of the transport managers are ex-drivers or others with long experience of the industry. Labour trouble arises in large firms with transport subsidiaries because production-oriented incentive schemes are applied to drivers without adequate forethought or sufficient consultation. "Drivers are skilled men and should not be treated like labourers", says Ted Watkin.
A minor strike occurred at one factory because drivers learned from consultant staff in residence that a transport reorganization would take a long time to report on. Concluding that their pay claim would not be considered until the consultants had reported, the drivers stopped work, with considerable annoyance to management.
The pace of wage increases in an inflationary period can be illustrated from one firm I heard of near Taunton: In 16 months the drivers had won three pay increases bringing them to £19 for a basic week. The current claim of the same men was for an additional a a week. When the management resisted, the union agreed to scale down the demand to /3 a week, at which negotiations commenced.
When the FTA became associated with the Road Haulage Wages Council it became desirable to undertake comprehensive wages surveys in the various regions, including South Western and South Wales division. The imminence of the Industrial Relations Act was an additional factor.
Major consequences Whether or not the data produced will be fully released, the existence of the factual survey will have major consequences. The industry has worked in the dark for too long. Large numbers of firms, both own-account and professional haulage, have paid rates based on Wages Council minima—often a straight pound or two or a small percentage more than the legal requirement.
It is predictable that the small members of both trade associations will have many reservations about the wages census, yet in the current climate such a survey could prove of great value. If it is allied with accurate job descriptions and makes some reference to the terms of service the industry will for the first time be within measurable distance of working out a national pay and conciliation structure that could do—what the unions and many progressive managements have long wanted to do—supersede the outmoded Wages Council.
Joe Cox is one RHA area secretary with many qualms about the FTA's initiative. He thinks publication of nationwide or area wage rates will encourage the sort of leapfrogging—the playing off of one firm against another—that can be so damaging. The influence of wage rates on haulage rates is critical; Joe Cox speaks for many hauliers in the West who wonder how the Birmingham pay structure has impinged on rates charged. "If I was an assenting RHA haulier in Birmingham just now I'd be tempted to write to Messrs Robert Carr, Victor Feather and Alan Law to ask their help in meeting the CBI target of 5 per cent price increases!"
Terry Barnes gave an amusing illustration of the tangle that is labour relations, 1971, when he spoke of a Bristol firm operating trunk services up and down A38. Drivers at one end of the service are paid differently from drivers at the other end, though the work is otherwise identical. Two or three different area offices of the TGWU are involved in pay negotiations and the discrepancy has not yet been rumbled!
Labour relations, it cannot be stressed too often, concern much more than drivers' pay and conditions. White-collar staffs, even managing directors of large transport firms, may be equally in the firing line as employees, despite professional qualifications. The subject is so sensitive that some directors are forbidden by their contract of service to discuss industrial relations matters with the Press. Progress in this difficult area surely demands frankness all round?