Transport engineering:1971:
27th August 1971
Page 31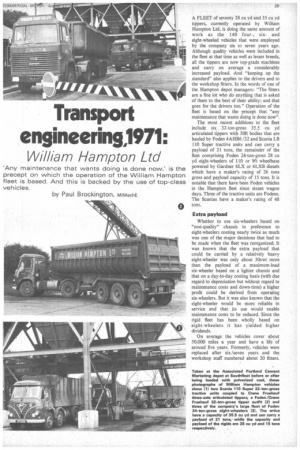 Page 32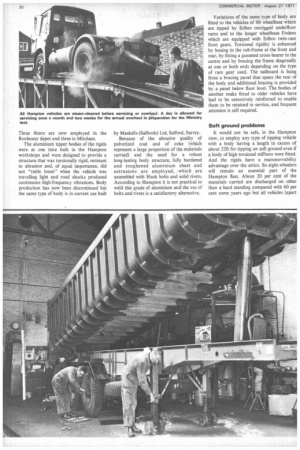 Page 33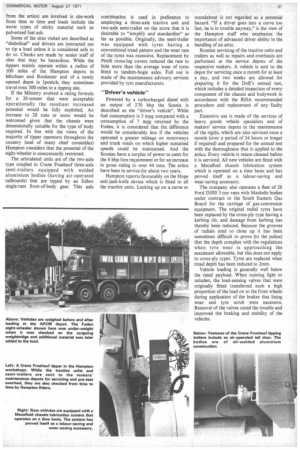 Page 31, 27th August 1971 —
Transport engineering:1971:
Close
William Hampton Ltd
Any maintenance that wants doing is done now: is the precept on which the operation of the William Hampton fleet is based. And this is backed by the use of top-class vehicles.
by Paul Brockington, MIMechE
A FLEET of seventy 28 Cu yd and 35 Cu yd tippers, currently operated by William Hampton Ltd, is doing the same amount of work as the 140 four-, sixand eight-wheeled vehicles that were employed by the company six to seven years ago. Although quality vehicles were included in the fleet at that time as well as lesser breeds, all the tippers are now top-grade machines and carry on average a considerably increased payload. And "keeping up the standard" also applies to the drivers and to the workshop fitters. In the words of one of the Hampton depot managers: "The fitters are a fine lot who do anything that is asked of them to the best of their ability; and that goes for the drivers too." Operation of the fleet is based on the precept that "any maintenance that wants doing is done now".
The most recent additions to the fleet include six 32-ton-gross 35.5 Cu yd articulated tippers with 30ft bodies that are hauled by Foden 4AH56 /32 and Scania LB 110 Super tractive units and can carry a payload of 21 tons, the remainder of the fleet comprising Foden 24-ton-gross 28 cu yd eight-wheelers of 1 [ft or 9ft wheelbase powered by Gardner 6LX or 6LXB diesels which have a maker's rating of 26 tons gross and payload capacity of 15 tons. It is notable that there have been Foden vehicles in the Hampton fleet since steam wagon days. Three of the tractive units are Fodens. The Scanias have a maker's rating of 48 tons.
Extra payload
Whether to use six-wheelers based on "non-quality" chassis in preference to eight-wheelers costing nearly twice as much was one of the major decisions that had to be made when the fleet was reorganized. It was known that the extra payload that could be carried by a relatively heavy eight-wheeler was only about 30cwt more than the payload of a maximum-load six-wheeler based on a lighter chassis and that on a day-to-day costing basis (with due regard to depreciation but without regard to maintenance costs and down-time) a higher profit could be derived from operating six-wheelers. But it was also known that. the eight-wheeler would be more reliable in service and that its use would enable maintenance costs to be reduced. Since the rigid fleet has been wholly based on eight-wheelers it has yielded higher dividends.
On average the vehicles cover about 50,000 miles a year and have a life of around five years. Formerly, vehicles were replaced after six/seven years and the workshop staff numbered about 20 fitters. Three fitters are now employed in the Rochester depot and three in Mitcham.
The aluminium tipper bodies of the rigids were at one time built in the Hampton workshops and were designed to provide a structure that was torsionally rigid, resistant to abrasion and, of equal importance, did not "rattle loose" when the vehicle was travelling light and road shocks produced continuous high-frequency vibrations. Body production has now been discontinued but the same type of body is in current use built by Maskells (Salfords) Ltd, Salford, Surrey.
Because of the abrasive quality of pulverized coal and of coke (which represent a large proportion of the materials carried) and the need for a robust long-lasting body structure, fully hardened and toughened aluminium sheet and extrusions are employed, /which are assembled with Huck bolts and solid rivets. According to Hampton it is not practical to weld this grade of aluminium and the use of bolts and rivets is a satisfactory alternative. Variations of the same type of body are fitted to the vehicles of 9ft wheelbase which are tipped by Edbro outrigged underfloor rams and to the longer wheelbase Fodens which are equipped with Edbro twin-ram front gears. Torsional rigidity is enhanced by boxing in the sub-frame at the front and rear, by fitting a gusseted cross-bearer in the centre and by bracing the frame diagonally at one or both ends depending on the type of ram gear used. The tailboard is hung from a bracing panel that spans the rear of the body and additional bracing is provided by a panel below floor level. The bodies of another make fitted to older vehicles have had to be extensively reinforced to enable them to be retained in service, and frequent attention is still required.
Soft ground problems
It would not be safe, in the Hampton view, to employ any type of tipping vehicle with a body having a length in excess of about 22k for tipping on soft ground even if a body of high torsional stiffness were fitted. And the rigids have a manoeuvrability advantage over the artics. So eight-wheelers will remain an essential part of the Hampton fleet. About 20 per cent of the materials carried are discharged on other than a hard standing compared with 60 per cent some years ago but all vehicles (apart from the artics) are involved in site-work from time to time and loads include the worst types of sticky material such as pulverized fuel ash.
Some of the sites visited are described as "diabolical" and drivers are instructed not to tip a load unless it is considered safe to do so. Checks are made by senior staff of sites that may be hazardous. While the tippers mainly operate within a radius of 100 miles of the Hampton depots in Mitcham and Rochester and of a newly opened depot in Ipswich, they sometimes travel even 300 miles to a tipping site.
If the Ministry evolved a rating formula for a 26-tonner that were acceptable operationally the resultant increased potential would be fully exploited. An increase to 28 tons or more would be welcomed given that the chassis were dimensionally suitable for the type of body required. In line with the views of the majority of tipper operators throughout the country (and of many chief constables) Hampton considers that the potential of the eight-wheeler is uneccessarily restricted.
The articulated units are of the two-axle type coupled to Crane Fruehauf three-axle semi-trailers equipped with welded aluminium bodies (having air-operated tailboards) that are tipped by an Edbro single-ram front-of-body gear. This axle combination is used in preference to employing a three-axle tractive unit and two-axle semi-trailer on the score that it is desirable to "simplify and standardize" as far as possible. Originally, the semi-trailer was equipped with tyres having a conventional tread pattern and the wear rate of the tyres was excessive. Replacement by Pirelli cross-lug covers reduced the rate to little more than the average wear of tyres fitted to tandem-bogie axles. Full use is made of the maintenance advisory services provided by tyre manufacturers.
"Driver's vehicle" Powered by a turbocharged diesel with an output of 270 bhp the Scania is described as the "driver's vehicle". While fuel consumption is 5 mpg compared with a consumption of 7 mpg returned by the Foden, it is considered that the difference would be considerably less if the vehicles operated a greater mileage on motorways and trunk roads on which higher sustained speeds could be maintained. And the Scanias have a surplus of power to cater for the 6 bhp/ton requirement or for an increase in gross rating to over 44 tons. The artics have been in service for about two years.
Hampton reports favourably on the Hope anti-jack-knife device which is fitted to all the tractive units. Locking up on a curve or roundabout is not regarded as a potential hazard. "If a driver goes into a curve too fast, he is in trouble anyway," is the view of the Hampton staff who emphasize the importance of advanced driver ability in the handling of an attic.
Routine servicing of the tractive units and trailers as well as repairs and overhauls are performed at the service depots of the respective makers. A vehicle is sent to the depot for servicing once a month for at least a day, and two weeks are allowed for preparing it for the DoE's annual test, which includes a detailed inspection of every component of the chassis and bodywork in accordance with the RHA recommended procedure and replacement of any faulty part.
Extensive use is made of the services of heavy goods vehicle specialists and of makers' service depots in the maintenance of the rigids, which are also serviced once a month (over a period of 24 hours or longer if required) and prepared for the annual test with the thoroughness that is applied to the artics. Every vehicle is steam-cleaned before it is serviced. All new vehicles are fitted with a Mecafluid chassis lubrication system which is operated on a time basis and has proved itself as a labour-saving and wear-saving accessory.
The company also operates a fleet of 28 Ford D300 3-ton vans with Maskells bodies under contract to the South Eastern Gas Board for the carriage of gas-conversion equipment. The original radial tyres have been replaced by the cross-ply type having a kerbing rib, and damage from kerbing has thereby been reduced. Because the grooves of radials tend to close up it has been sometimes difficult to prove (to the police) that the depth complies with the regulations when tyre wear is approaching the maximum allowable, but this does not apply to cross-ply types. Tyres are replaced when tread depth has been reduced to 2mm.
Vehicle loading is generally well below the rated payload. When running light or unladen, the load-sensing valves that were originally fitted transferred such a high proportion of the load on to the front wheels during application of the brakes that lining wear and tyre scrub were excessive.• Removal of the valves cured the trouble and improved the braking and stability of the vehicles.