Telehoist special
27th August 1971
Page 30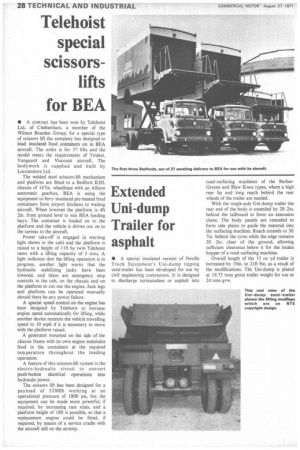 Page 30, 27th August 1971 —
Telehoist special
Close
scissors
lifts for BEA
• A contract has been won by Telehoist Ltd, of Cheltenham, a member of the Wilmot Breeden Group, for a special type of scissors lift the company has designed to load insulated food containers on to BEA aircraft. The order is for 37 lifts and the model meets the requirements of Trident, Vanguard and Viscount aircraft. The bodywork is supplied and built by Locomotors Ltd.
The welded steel scissors-lift mechanism and platform are fitted to a Bedford KHL chassis of 167in. wheelbase with an Allison automatic gearbox. BEA is using the equipment to ferry insulated pre-heated food containers from airport kitchens to waiting aircraft. When lowered the platform is 4ft 2in. from ground level to suit BEA loading bays.The container is loaded on to the platform and the vehicle is driven out on to the tarmac to the aircraft.
Power take-off is engaged (a warning light shows in the cab) and the platform is raised to a height of lift by twin Telehoist rams with a lifting capacity of 5 tons. A light indicates that the lifting operation is in progress, another light warns that the hydraulic. stabilizing jacks have been lowered, and there are emergency stop controls in the cab, on the chassis and on the platform to cut out the engine. Jack legs and platform can be operated manually should there be any power failure.
A special speed control on the engine has been designed by Telehoist to increase engine speed automatically for lifting, while another device restricts the vehicle travelling speed to 10 mph if it is necessary to move with the platform raised.
A generator mounted on the side of the chassis frame with its own engine maintains food in the containers at the required temperature throughout the loading operation.
A feature of this scissors-lift system is the electro-hydraulic circuit to convert push-button electrical operations into hydraulic power.
The scissors lift has been designed for a payload of 52001b working at an operational pressure of 1800 psi, but the equipment can be made more powerful, if required, by increasing ram sizes, and a platform height of 1811 is possible, so that a replacement engine could be fitted, if required, by means of a service cradle with the aircraft still on the airstrip.