Texaco speeds up tanker calibration
27th August 1971
Page 28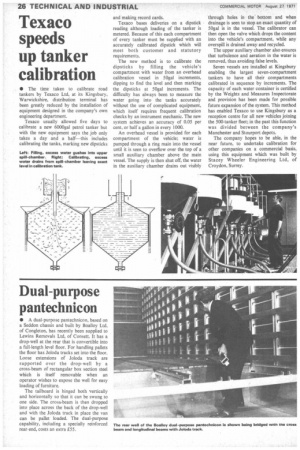 Page 28, 27th August 1971 —
Texaco speeds up tanker calibration
Close
• The time taken to calibrate road tankers by Texaco Ltd, at its Kingsbury, Warwickshire, distribution terminal has been greatly reduced by the installation of equipment designed in the company's own engineering department.
Texaco usually allowed five days to calibrate a new 6000gal petrol tanker but with the new equipment says the job only takes a day and a half—this includes calibrating the tanks, marking new dipsticks and making record cards.
Texaco bases deliveries on a dipstick reading although loading of the tanker is metered. Because of this each compartment of every tanker must be supplied with an accurately calibrated dipstick which will meet both customer and statutory requirements.
The new method is to calibrate the dipsticks by filling the vehicle's compartment with water from an overhead calibration vessel in 50gal increments, dipping to find the level and then marking the dipsticks at 50gal increments. The difficulty has always been to measure the water going into the tanks accurately without the use of complicated equipment, which itself requires frequent calibration checks by an instrument mechanic. The new system achieves an accuracy of 0.05 per cent, or half a gallon in every 1000.
An overhead vessel is provided for each compartment of the vehicle; water is pumped through a ring main into the vessel until it is seen to overflow over the top of a small auxiliary chamber above the main vessel. The supply is then shut off, the water in the auxiliary chamber drains out visibly through holes in the bottom and when drainage is seen to stop an exact quantity of 50gal is in the vessel. The calibrator can then open the valve which drops the content into the vehicle's compartment, while any overspill is drained away and recycled.
The upper auxiliary chamber also ensures that turbulence and aeration in the water is removed, thus avoiding false levels.
Seven vessels are installed at Kingsbury enabling the largest seven-compartment tankers to have all their compartments calibrated in sequence by increments. The capacity of each water container is certified by the Weights and Measures Inspectorate and provision has been made for possible future expansion of the system. This method has enabled Texaco to use Kingsbury as a reception centre for all new vehicles joining the 500-tanker fleet; in the past this function was divided between the company's Manchester and Stourport depots.
The company hopes to be able, in the near future, to undertake calibration for other companies on a commercial basis, using this equipment which was built by Stacey Wheeler Engineering Ltd, of Croydon, Surrey.