LA removes 26 vehicles from three northern companies
27th August 1971
Page 23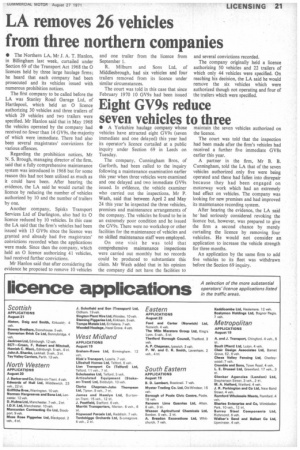 Page 23, 27th August 1971 —
LA removes 26 vehicles from three northern companies
Close
• The Northern LA. Mr J. A. T. Hanlon. in Billingham last week, curtailed under Section 69 of the Transport Act 1968 the 0 licences held by three large haulage firms: he heard that each company had been prosecuted and its vehicles issued with numerous prohibition notices.
The first company to be called before the LA was Stanley Road Garage Ltd. of Hartlepool, which held an 0 licence authorizing 30 vehicles and three trailers of which 29 vehicles and two trailers were specified. Mr Hanlon said that in May 1968 the vehicles operated by the company had received no fewer than 14 GV9s. the majority of which were immediate. There had also been several magistrates' convictions for various offences.
Regarding the prohibition notices. Mr N. S. Brough. managing director of the firm. said that a fully comprehensive maintenance system was introduced in 1968 but for some reason this had not been utilized as much as it could have been. After hearing the evidence, the LA said he would curtail the licence by reducing the number of vehicles authorized by 10 and the number of trailers by one.
Another company, Spisks Transport Services Ltd of Darlington, also had its 0 licence reduced by 10 vehicles. In this case the LA said that the firm's vehicles had been issued with 13 GV9s since the licence was granted and already had five magistrates' convictions recorded when the applications were made. Since then the company, which held an 0 licence authorizing 41 vehicles, had received further convictions.
Mr Hanlon said that after considering the evidence he proposed to remove 10 vehicles and one trailer from the licence from September 1.
R. Milburn and Sons Ltd. of Middlesbrough, had six vehicles and four trailers removed from its licence under similar circumstances.
The court was told in this case that since February 1970 10 GV9s had been issued and several convictions recorded.
The company originally held a licence authorizing 50 vehicles and 22 trailers of which only 44 vehicles were specified. On reaching his decision, the LA said he would remove the six vehicles which were authorized though not operating and four of the trailers which were specified.