Eight GV9s reduce seven vehicles to three
27th August 1971
Page 23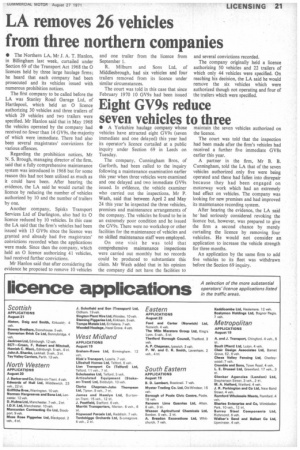 Page 23, 27th August 1971 —
Eight GV9s reduce seven vehicles to three
Close
• A Yorkshire haulage company whose vehicles have attracted eight GV9s (seven immediate and one delayed) this year had its operator's licence curtailed at a public inquiry under Section 69 in Leeds on Tuesday.
The company, Cunningham Bros. of Garforth, had been called to the inquiry following a maintenance examination earlier this year when three vehicles were examined and one delayed and two immediate GV9s issued. In evidence, the vehicle examiner who carried out the inspections. Mr P. Wash, said that between April 2 and May 24 this year he inspected the three vehicles, premises and maintenance arrangements of the company. The vehicles he found to be in an extremely poor condition and he issued the GV9s. There were no workshop or other facilities for the maintenance of vehicles and no skilled maintenance staff were employed.
On one visit he was told that comprehensive maintenance inspections were carried out monthly but no records could be produced to substantiate this claim. Mr Wash added that in his opinion the company did not have the facilities to maintain the seven vehicles authorized on the licence.
The court was told that the inspection had been made after the firm's vehicles had received a further five immediate GV8s earlier this year.
A partner in the firm, Mr B. B. Cunningham, told the LA that of the seven vehicles authorized only five were being operated and these had fallen into disrepair because they had been engaged on motorway work which had an extremely bad effect on vehicles. The company was looking for new premises and had improved its maintenance recording system.
After hearing the evidence, the LA said he had seriously considered revoking the licence but, however, was prepared to give the firm a second chance by merely curtailing the licence by removing four vehicles. He would not consider an application to increase the vehicle strength for three months.
An application by the same firm to add five vehicles to its fleet was withdrawn before the Section 69 inquiry.