Where man is better than the machine
27th August 1971
Page 20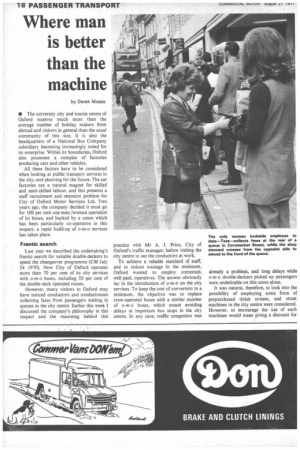 Page 21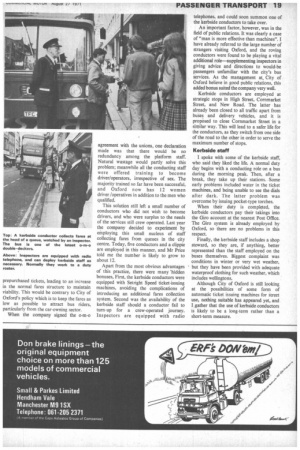 Page 20, 27th August 1971 —
Where man is better than the machine
Close
by Derek Moses • The university city and tourist centre of Oxford receives much more than the average number of holiday makers from abroad and visitors in general than the usual community of this size. It is also the headquarters of a National Bus Company subsidiary becoming increasingly noted for its enterprise. Within its boundaries, Oxford also possesses a complex of factories producing cars and other vehicles.
All these factors have to be considered when looking at public transport services in the city, and planning for the future. The car factories are a natural magnet for skilled and semi-skilled labour, and this presents a staff recruitment and retention problem for City of Oxford Motor Services Ltd. Two years ago, the company decided it must go for 100 per cent one-man /woman operation of its buses, and backed by a union which has been particularly co-operative in this respect, a rapid build-up of o-m-o services has taken place.
Frantic search
Last year we described the undertaking's frantic search for suitable double-deckers to speed the changeover programme (CM July 24 1970). Now City of Oxford operates more than 70 per cent of its city services with o-m-o buses, including 50 per cent of the double-deck operated routes.
However, many visitors to Oxford may have noticed conductors and conductresses collecting fares from passengers waiting in queues in the city centre. Earlier this week I discussed the company's philosophy in this respect and the reasoning behind this practice with Mr A. J. Price, City of Oxford's traffic manager, before visiting the city centre to see the conductors at work.
To achieye a reliable standard of staff, and to reduce wastage to the minimum, Oxford wanted to employ contented, well-paid, operatives. The answer obviously lay in the introduction of o-m-o on the city services. To keep the cost of conversion to a minimum, the objective was to replace crew-operated buses with a similar number of o-m-o buses, which meant avoiding delays at important bus stops in the city centre. In any case, traffic congestion was already a problem, and long delays while o-m-o double-deckers picked up passengers were undesirable on this score alone.
It was natural, therefore, to look into the possibility of employing some form of prepurchased ticket system, and street machines in the city centre were considered. However, to encourage the use of such machines would mean giving a discount for prepurchased tickets, leading to an increase in the normal fares structure to maintain viability. This would be contrary to City of Oxford's policy which is to keep the fares as low as possible to attract bus riders, particularly from the car-owning sector.
When the company signed the o-m-o agreement with the unions, one declaration made was that there would be no redundancy among the platform staff. Natural wastage would partly solve this problem; meanwhile all the conducting staff were offered training to become driver/operators, irrespective of sex. The majority trained so far have been successful, and Oxford now has 12 women driver /operatives in addition to the men who qualified.
This solution still left a small number of conductors who did not wish to become drivers, and who were surplus to the needs of the services still crew operated. Last year the company decided to experiment by employing this small nucleus of staff collecting fares from queues in the city centre. Today, five conductors and a clippie are employed in this manner, and Mr Price told me the number is likely to grow to about 12.
Apart from the most obvious advantages of this practice, there were many 'hidden bonuses, First, the kerbside conductors were equipped with Setright Speed ticket-issuing machines, avoiding the complications of introducing an additional fares collection system. Second was the availability of the kerbside staff should a conductor fail to turn-up for a crew-operated journey. Inspectors are equipped with radio telephones, and could soon summon one of the kerbside conductors to take over.
An important factor, however, was in the field of public relations. It was clearly a case of "man is more effective than machines", I have already referred to the large number of strangers visiting Oxford, and the roving conductors were found to be playing a vital additional role—supplementing inspectors in giving advice and directions to would-be passengers unfamiliar with the city's bus services. As the management at. City of Oxford believe in good public relations, this added bonus suited the company very well.
Kerbside conductors are employed at strategic stops in High Street, Cornmarket Street, and New Road. The latter has already been closed to all traffic apart from buses and delivery vehicles, and it is proposed to close Cornmarket Street in a similar way. This will lead to a safer life for the conductors, as they switch from one side of the road to the other in order to serve the maximum number of stops.
Kerbside staff
I spoke with some of the kerbside staff, who said they liked the life. A normal duty day begins with a conducting role on a bus during the morning peak. Then, after a break, they take up their stations. Some early problems included water in the ticket machines, and being unable to see the dials after dark. The latter problem was overcome by issuing pocket-type torches.
When their duty is completed, the kerbside conductors pay their takings into the Giro account at the nearest Post Office. The Giro system is already employed by Oxford, so there are no problems in this respect.
Finally, the kerbside staff includes a shop steward, so they are, if anything, better represented than the staff employed on the buses themselves. Biggest complaint was conditions in winter or very wet weather, ' but they have been provided with adequate waterproof clothing for such weather, which includes wellingtons.
Although City of Oxford is still looking at the possibilities of some form of automatic ticket issuing machines for street use, nothing suitable has appeared yet, and I gather that the use of kerbside conductors is likely to be a long-term rather than a short-term measure.