P. J. Moxon joins Unilever from Eden Vale
27th August 1971
Page 19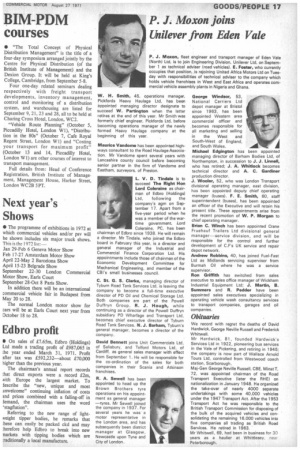 Page 19, 27th August 1971 —
P. J. Moxon joins Unilever from Eden Vale
Close
P. J. Maxon, fleet engineer and transport manager of Eden Vale (North) Ltd, is to join Engineering Division, Unilever Ltd, on September 1 as technical adviser (road vehicles). E. Foster, who currently occupies that position, is rejoining United Africa Motors Ltd on Tuesday with responsibilities of technical adviser to the company which holds vehicle franchises in West and East Africa and operates commercial vehicle assembly plants in Nigeria and Ghana.
W. H. Smith, 45, operations manager, Pickfords Heavy Haulage Ltd, has been appointed managing director designate to succeed W. Partington when the latter retires at the end of this year. Mr Smith was formerly chief engineer, Pickfords Ltd, before becoming operations manager of the newly formed Heavy Haulage company at the beginning of this year.
Maurice Vandome has been appointed highways consultant to the Road Haulage Association. Mr Vendome spent several years with Lancashire county council before becoming senior partner in the firm of Vendome and Eastham, surveyors, of Preston.
L. V. D. Tindale is to succeed The Right Hon Lord Coleraine as chairman of Edbro (Holdings) Ltd, following the company's agm on September 17. Apart from a five-year period when he was a member of the wartime government, Lord Coleraine, PC, has been chairman of Edbro since 1938. He will remain a director. Mr Tindale, who joined the Edbro board in February this year, is a director and general manager of the Industrial and Commercial Finance Corporation Ltd. His appointments include those of chairman of the Economic Development Committee for Mechanical Engineering, and member of the CBI's small businesses council.
C. St. G. S. Clarke, managing director of Tyburn Road Tank Services Ltd, is leaving the company to become a full-time executive director of PD Oil and Chemical Storage Ltd. Both companies are part of the Powell Duffryn Group. R. J. Hough, while continuing as a director of the Powell Duffryn subsidiary PD Wharfage and Transport Ltd, becomes chief executive director of Tyburn Road Tank Services. N. J. Barham, Tyburn's general manager, becomes a director of the company.
David Bennett joins Unit Commercials Ltd, of Salisbury, and Telford Motors Ltd, of Cardiff, as general sales manager with effect from September 1. He will be responsible for the co-ordination of the sales for both companies in their Scania and Atkinson franchises.
R. A. Sewell has been appointed to head up the Brown Brothers tyre operations on his appointment as general manager —tyres. Mr Sewell joined the company in 1937. For several years he was a motor representative in the London area, and has subsequently been district manager at Glasgow, Newcastle upon Tyne and City of London. George Windsor, 53, National Carriers Ltd depot manager at Bristol since 1963, has been appointed Western area commercial officer and becomes responsible for all marketing and selling in the West and South-West of England, and South Wales.
Michael Edgington has been appointed managing director of Barham Bodies Ltd, of Northampton, in succession to J. J. Linnell, who has retired; J. A. Whitlock becomes technical director and A. C. Gardiner production director.
J. Wooler, 52, who was London Transport divisional operating manager, east division, has been appointed deputy chief operating manager (buses). F. E. Smith, 60, staff superintendent (buses), has been appointed an officer of the Executive and will retain his present title. These appointments arise from the recent promotion of W. P. Morgan to chief operating manager.
Brian C. Winch has been appointed Crane Fruehauf Trailers Ltd divisional general manager—service division, and will be responsible for the control and further development of CF's UK service and repair depot network.
Andrew Robbins, 40, has joined Fuel-Fast Ltd as Midlands servicing supervisor from Burmah Oil where he was a service supervisor.
Ron Griffith has switched from sales executive to sales office manager of Wickham Industrial Equipment Ltd; J. Martin, B. Summers and R. Pedder have been appointed sales executives specializing in operating vehicle wash consultancy services to transport companies, garages and oil companies.
Obituaries
We record with regret the deaths of David Hardwick, George Neville Russell and Frederick Whitwell.
Mr Hardwick, 81, founded Hardwick's Services Ltd in 1922, pioneering bus services in the Vale of Pickering, and retiring in 1945; the company is now part of Wallace Arnold Tours Ltd, controlled from Westwood coach station, Scarborough.
Maj-Gen George Neville Russell, CBE, MinstT, 72, was appointed chairman of the Road Transport Executive (later the RHE) on nationalization in January 1948. He organized the take-over of nearly 4000 separate undertakings with some 40,000 vehicles under the 1947 Transport Act. After the 1953 Transport Act he was responsible to the British Transport Commission for disposing of the bulk of the acquired vehicles and consolidating the remaining 16,000 vehicles into five companies all trading as British Road Services. He retired in 1963.
Mr Whitwell, 69, had been in business for 30 years as a haulier at Whittlesey, nea.: Peterborough.
Tags
People
:
W. P. Morgan
,
J. J. Linnell
,
Vendome
,
Michael Edgington
,
Maurice Vandome
,
Andrew Robbins
,
D. Tindale
,
F. E. Smith
,
David Bennett
,
E. Foster
,
Ron Griffith
,
Frederick Whitwell
,
George Neville Russell
,
Brian C. Winch
,
S. Clarke
,
George Windsor
,
N. J. Barham
,
W. H. Smith
,
P. J. Moxon
,
David Hardwick
,
J. Wooler
,
R. A. Sewell