Pay strate of the unions
27th August 1971
Page 12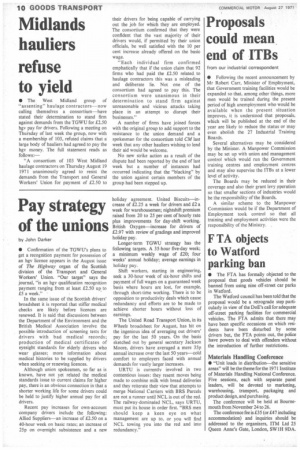 Page 12, 27th August 1971 —
Pay strate of the unions
Close
by John Darker • Confirmation of the TGWU's plans to get a recognition payment for possession of an hgv licence appears in the August issue of The Highway organ of the Scottish division of the Transport and General Workers' Union. "Our target" says the journal, "is an hgv qualification recognition payment ranging from at least £2.50 up to £5 a week." •
In the same issue of the Scottish drivers' broadsheet it is reported that stiffer medical checks are likely before licences are renewed. It is said that discussions between the Department of the Environment and the British Medical Association involve the possible introduction of screening tests for drivers with bad medical records; production of medical certificates of eyesight standards for elderly drivers who wear glasses; more information about medical histories to be supplied by drivers when seeking or renewing licences.
Although union spokesmen, so far as is known, have not yet related the medical standards issue to current claims for higher pay, there is an obvious connection in that a shorter working life for some drivers could be held to justify higher annual pay for all drivers.
Recent pay increases for own-account company drivers include the following: Allied Suppliers—an increase of £2.50 on a 40-hour week on basic rates; an increase of 25p on overnight subsistence and a new holiday agreement. United Biscuits—increase of £2.25 a week for drivers and £2 a week for warehousemen; nightshift premium raised from 20 to 25 per cent of hourly rate plus improvements for day-shift working. British Oxygen—increase for drivers of £2.97 with review of gradings and improved holiday pay.
Longer-term TGWU strategy has the following targets. A 35-hour five-day week; a minimum weekly wage of £20; four weeks' annual holiday; average earnings in holiday pay.
Shift workers, starting in engineering, seek a 30-hour week of six-hour shifts and payment of full wages on a guaranteed week basis where hours are lost, for example, through short-time working. There is to be opposition to productivity deals which cause redundancy and efforts are to be made to achieve shorter hours without loss of earnings.
The United Road Transport Union, in its Wheels broadsheet for August, has hit on the ingenious idea of averaging out drivers' pay for the last 50 years. On the basis sketched out by general secretary Jackson Moore, drivers have averaged a mere 35p annual increase over the last 50 years—cold comfort to employers faced with annual demands for vastly larger increases.
URTU is currently involved in two contentious issues: they resent moves being made to combine milk with bread deliveries and they reiterate their view that attempts to merge National Carriers with BRS Parcels are not a runner until NCL is out of the red. The railway-dominated NCL, says URTU, must put its house in order first. "BRS men should keep a keen eye on what management are up to, or you will find NCL towing you into the red and into redundancy."