Midlands hauliers refuse to yield
27th August 1971
Page 12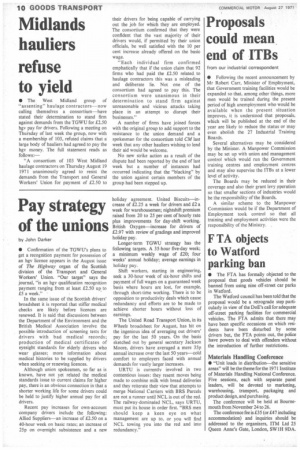 Page 12, 27th August 1971 —
Midlands hauliers refuse to yield
Close
• The West Midland group of
"assenting" haulage contractors now calling themselves a consortium—have stated their determination to stand firm against demands from the TGWU for £.2.50 hgv pay for drivers. Following a meeting on Thursday of last week the group, now with a membership of 103, refuted claims that a large body of hauliers had agreed to pay the hgv money. The full statement reads as follows:—
"A consortium of 103 West Midland haulage contractors on Thursday August 19 1971 unanimously agreed to resist the demands from the Transport and General Workers' Union for payment of £2.50 to their drivers for being capable of carrying out the job for which they are employed. The consortium confirmed that they were confident that the vast majority of their drivers would, if permitted by their union officials, be well satisfied with the 10 per cent increase already offered on the basic wage.
"Each individual firm confirmed emphatically that if the union claim that 92 firms who had paid the £2.50 related to haulage contractors this was a misleading and deliberate lie. Not one of the consortium had agreed to pay this. The consortium were unanimous in their determination to stand firm against unreasonable and vicious attacks taking place in an attempt to disrupt their businesses."
A number of firms have joined forces with the original group to add support to the resistance to the union demand and a spokesman for the consortium told CM last week that any other hauliers wishing to lend their aid would be welcome,
No new strike action as a result of the dispute had been reported by the end of last week but a number of instances had occurred indicating that the "blacking" by the union against certain members of the group had been stepped up.