THE CASE FOR 14.6M
26th September 2013
Page 9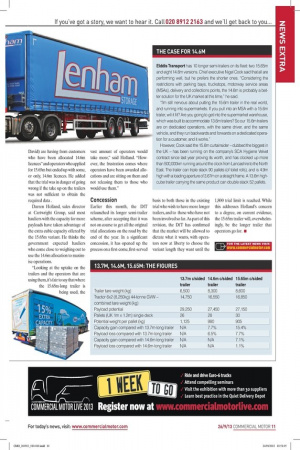 Page 9, 26th September 2013 —
THE CASE FOR 14.6M
Close
Elddis Transport has 10 longer semi-trailers on its fleet: two 15.65m and eight 14.6m versions. Chief executive Nigel Cook said that all are performing well, but he prefers the shorter ones. "Considering the restrictions with parking bays, truckstops, motorway service areas (MSAs), delivery and collections points, the 14.6m is probably a better solution for the UK market at this time," he said.
"I'm still nervous about putting the 15.6m trailer in the real world, and running into supermarkets. If you pull into an MSA with a 15.6m trailer, will it fit? Are you going to get into the supermarket warehouse, which was built to accommodate 13.6m trailers? So our 15.6m trailers are on dedicated operations, with the same driver, and the same vehicle, and they run backwards and forwards on a dedicated operation for a customer, and it works."
However, Cook said the 15.6m curtainsider — dubbed the biggest in the UK — has been running on the company's SCA Hygiene Velvet contract since last year proving its worth, and has clocked up more than 500,000km running around the clock from Lancashire to the North East. The trailer can triple stack 90 pallets (of toilet rolls), and is 4.9m high with a loading aperture of 3.67m on a straightframe. A 13.6m highcube trailer carrying the same product can double stack 52 pallets.