European drivers could avoid Vosa CPC action
26th September 2013
Page 4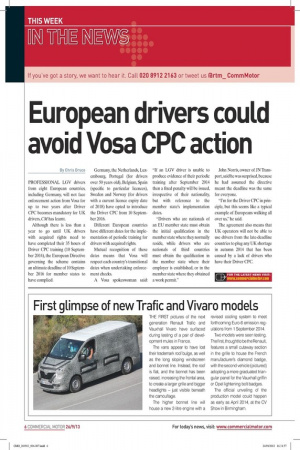 Page 4, 26th September 2013 —
European drivers could avoid Vosa CPC action
Close
By Chris Druce
PROFESSIONAL LGV drivers from eight European countries, including Germany, will not face enforcement action from Vosa for up to two years after Driver CPC becomes mandatory for UK drivers, CM has learnt.
Although there is less than a year to go until UK drivers with acquired rights need to have completed their 35 hours of Driver CPC training (10 September 2014), the European Directive governing the scheme contains an ultimate deadline of 10 September 2016 for member states to have complied.
Germany, the Netherlands, Luxembourg, Portugal (for drivers over 50 years old), Belgium, Spain (specific to particular licences), Sweden and Norway (for drivers with a current licence expiry date of 2018) have opted to introduce the Driver CPC from 10 September 2016.
Different European countries have different dates for the implementation of periodic training for drivers with acquired rights.
Mutual recognition of these dates means that Vosa will respect each country's transitional dates when undertaking enforcement checks. A Vosa spokeswoman said:
"If an LGV driver is unable to produce evidence of their periodic training after September 2014 then a fixed penalty will be issued, irrespective of their nationality, but with reference to the member state's implementation dates.
"Drivers who are nationals of an EU member state must obtain the initial qualification in the member state where they normally reside, while drivers who are nationals of third countries must obtain the qualification in the member state where their employer is established, or in the member state where they obtained a work permit."
John Norris, owner of JN Transport, said he was surprised, because he had assumed the directive meant the deadline was the same for everyone.
"I'm for the Driver CPC in principle, but this seems like a typical example of Europeans walking all over us," he said.
The agreement also means that UK operators will not be able to use drivers from the late-deadline countries to plug any UK shortage in autumn 2014 that has been caused by a lack of drivers who have their Driver CPC.