TRAFFIC
26th September 2013
Page 36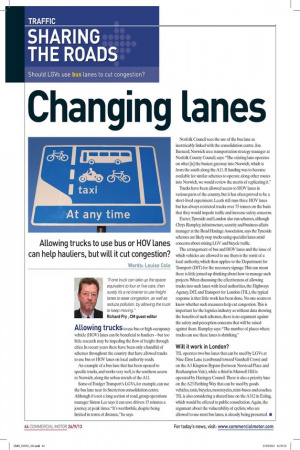 Page 36, 26th September 2013 —
TRAFFIC
Close
SHARING THE ROADS
Should LGVs use lanes to cut congestion?
Changing lanes
Allowing trucks to use bus or high-occupancy vehicle (HOV) lanes can be beneficial to hauliers — but too little research may be impeding the flow of freight through cities. In recent years there have been only a handful of schemes throughout the country that have allowed trucks to use bus or HOV lanes on local authority roads.
An example of a bus lane that has been opened to specific trucks, and works very well, is the southern access to Norwich, along the urban stretch of the All.
Some of Foulger Transport's LGVs, for example, can use the bus lane near its Snetterton consolidation centre. Although it's not a long section of road, group operations manager Simon Lee says it can save drivers 15 minutes a journey at peak times. "It's worthwhile, despite being limited in terms of distance," he says.
Norfolk Council sees the use of the bus lane as inextricably linked with the consolidation centre. Jon Barnard, Norwich area transportation strategy manager at Norfolk County Council, says: "The existing lane operates on what [is] the busiest gateway into Norwich, which is from the south along the All. If funding was to become available for similar schemes to operate along other routes into Norwich, we would review the merits of replicating it."
Trucks have been allowed access to HOV lanes in various parts of the country, but it has often proved to be a short-lived experiment. Leeds still runs three HOV lanes but has always restricted trucks over 7.5 tonnes on the basis that they would impede traffic and increase safety concerns.
Exeter, Tyneside and London also run schemes, although Chrys Rampley, infrastructure, security and business affairs manager at the Road Haulage Association, says the Tyneside schemes are likely stop trucks using specialist lanes amid concerns about mixing LGV and bicycle traffic.
The arrangement of bus and HOV lanes and the issue of which vehicles are allowed to use them is the remit of a local authority, which then applies to the Department for Transport (DfT) for the necessary signage. This can mean there is little joined-up thinking about how to manage such projects. When discussing the effectiveness of allowing trucks into such lanes with local authorities, the Highways Agency, DfT, and Transport for London (TfL), the typical response is that little work has been done. No one seems to know whether such measures help cut congestion. This is important for the logistics industry as without data showing the benefits of such schemes, there is no argument against the safety and perception concerns that will be raised against them Rampley says: "The number of places where trucks can use these lanes is shrinking."
Will it work in London?
TfL operates two bus lanes that can be used by LGVs at Nine Elms Lane (eastbound toward Vauxhall Cross) and on the A3 Kingston Bypass (between Norstead Place and Roehampton Vale), while a third in Muswell Hill is operated by Haringey Council:There is also a priority lane on the A23 Farthing Way that can be used by goods vehicles, taxis, bicycles, motorcycles, mini-buses and coaches. TfL is also considering a shared lane on the A312 in Ealing, which would be offered to public consultation. Again, the argument about the vulnerability of cyclists, who are allowed to use most bus lanes, is already being presented. •