PRODUCTS
26th September 2013
Page 32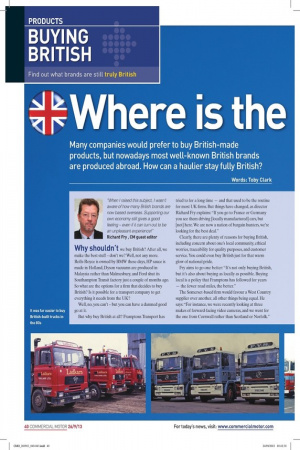 Page 33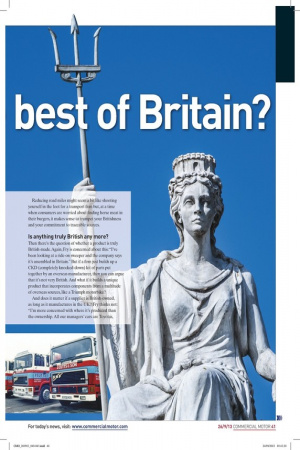 Page 34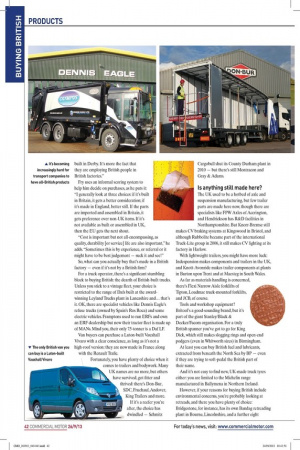 Page 35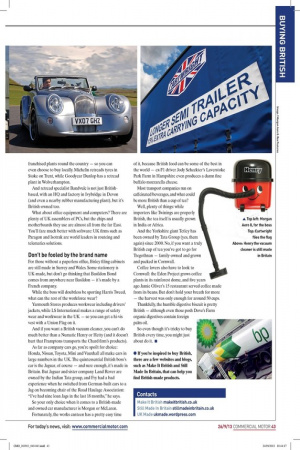 Page 32, 26th September 2013 —
PRODUCTS
Close
BUYING BRITISH
Find out what brands are still truly British
is the
best of Britain?
Many companies would prefer to buy British-made products, but nowadays most well-known British brands are produced abroad. How can a haulier stay fully British? Words: Toby Clark
Why shouldn't we buy British? After all, we make the best stuff — don't we? Well, not any more. Rolls-Royce is owned by BMW these days, HP sauce is made in Holland, Dyson vacuums are produced in Malaysia rather than Malmesbury, and Ford shut its Southampton Transit factory just a couple of months ago. So what are the options for a firm that decides to buy British? Is it possible for a transport company to get everything it needs from the UK?
Well, no, you can't — but you can have a damned good go at it. But why buy British at all? Framptons Transport has
tried to for a long time — and that used to be the routine for most UK firms. But things have changed, as director Richard Fry explains: "If you go to France or Germany you see them driving [locally manufactured] cars, but [not] here. We are now a nation of bargain hunters, we're looking for the best deal."
Clearly, there are plenty of reasons for buying British, including concern about one's local community, ethical worries, traceability for quality purposes, and customer service. You could even buy British just for that warm glow of national pride.
Fry aims to go one better: "It's not only buying British, but it's also about buying as locally as possible. Buying local is a policy that Framptons has followed for years — the fewer road miles, the better."
The Somerset-based firm would favour a West Country supplier over another, all other things being equal. He says: "For instance, we were recently looking at three makes of forward-facing video cameras, and we went for the one from Cornwall rather than Scotland or Norfolk."
Reducing road miles might seem a bit like shooting yourself in the foot for a transport firm but, at a time when consumers are worried about finding horse meat in their burgers, it makes sense to trumpet your Britishness and your commitment to traceable sources.
Is anything truly British any more?
Then there's the question of whether a product is truly British-made. Again, Fry is concerned about this: "I've been looking at a ride-on sweeper and the company says it's assembled in Britain." But if a firm just builds up a CKD (completely knocked-down) kit of parts put together by an overseas manufacturer, then you can argue that it's not very British. And what if it builds a unique product that incorporates components from a multitude of overseas sources, like a Triumph motorbike? And does it matter if a supplier is British-owned, as long as it manufactures in the UK? Fry thinks not: "I'm more concerned with where it's produced than the ownership. All our managers' cars are Toyotas,
built in Derby. It's more the fact that they are employing British people in British factories."
Fry uses an informal scoring system to help him decide on purchases, as he puts it: "I generally look at three choices: if it's built in Britain, it gets a better consideration; if it's made in England, better still. If the parts are imported and assembled in Britain, it gets preference over non-UK items. If it's not available as built or assembled in UK, then the EU gets the next shout.
"Cost is important but not all-encompassing, as quality, durability [or service] life are also important," he adds. "Sometimes this is by experience, or referral or it might have to be best judgement — suck it and see!"
So, what can you actually buy that's made in a British factory — even if it's not by a British firm? For a truck operator, there's a significant stumbling block to buying British: the dearth of British-built trucks. Unless you stick to a vintage fleet, your choice is restricted to the range of Dafs built at the awardwinning Leyland Trucks plant in Lancashire and... that's it. OK, there are specialist vehicles like Dennis Eagle's refuse trucks (owned by Spain's Ros Roca) and some electric vehicles. Framptons used to run ERFs and own an ERF dealership but now their tractor fleet is made up of MANs. Mind you, their only 7.5-tonner is a Daf LE Van buyers can purchase a Luton-built Vauxhall Vivaro with a clear conscience, as long as it's not a high-roof version: they are now made in France along
with the Renault Trafic. Fortunately, you have plenty of choice when it comes to trailers and bodywork. Many UK names are no more, but others have survived, got fitter and thrived: there's Don-Bur, SD C, Fruehauf, Andover,
King Trailers and more. If it's a reefer you're after, the choice has dwindled — Schmitz
Cargobull shut its County Durham plant in 2010 — but there's still Montracon and Gray & Adams.
Is anything still made here?
The UK used to be a hotbed of axle and suspension manufacturing, but few trailer parts are made here now, though there are specialists like FPW Axles of Accrington, and Hendrickson has R&D facilities in Northamptonshire. But Knorr-Bremse still
makes CV braking systems at Kingswood in Bristol, and although Rubbolite became part of the international Truck-Lite group in 2006, it still makes CV lighting at its factory in Harlow.
With lightweight trailers, you might have more luck: Indespension makes components and trailers in the UK, and Knott-Avonride makes trailer components at plants in Burton upon Trent and at Maesteg in South Wales. As far as materials handling is concerned,
there's Flexi Narrow Aisle forklifts of Tipton, Loadmac truck-mounted forklifts, and JCB, of course. Tools and workshop equipment? Britool's a good-sounding brand, but it's part of the giant Stanley/Black & Decker/Facom organisation. For a truly British spanner you've got to go for King
Dick, which still makes slogging rings and open-end podgers (even in Whitworth sizes) in Birmingham.
At least you can buy British fuel and lubricants, extracted from beneath the North Sea by BP — even if they are trying to soft-pedal the British part of their name.
And it's not easy to find new, UK-made truck tyres either: you are limited to the Michelin range manufactured in Ballymena in Northern Ireland. However, if your reasons for buying British include environmental concerns, you're probably looking at retreads, and there you have plenty of choice: Bridgestone, for instance, has its own Bandag retreading plant in Bourne, Lincolnshire, and a further eight
franchised plants round the country — so you can even choose to buy locally. Michelin retreads tyres in Stoke on Trent, while Goodyear Dunlop has a retread plant in Wolverhampton.
And retread specialist Bandvulc is not just Britishbased, with an HQ and factory in Ivybridge in Devon (and even a nearby rubber manufacturing plant), but it's British-owned too.
What about office equipment and computers? There are plenty of UK assemblers of PCs, but the chips and motherboards they use are almost all from the far East. You'll fare much better with software: UK firms such as Paragon and Isotrak are world leaders in routeing and telematics solutions.
Don't be footed by the brand name
For those without a paperless office, Bisley filing cabinets are still made in Surrey and Wales. Some stationery is UK-made, but don't go thinking that Basildon Bond comes from anywhere near Basildon — it's made by a French company.
While the boss will doubtless be sporting Harris Tweed, what can the rest of the workforce wear?
Yarmouth Stores produces workwear including drivers' jackets, while LS International makes a range of safety wear and workwear in the UK — so you can get a hi-vis vest with a Union Flag on it.
And if you want a British vacuum cleaner, you can't do much better than a Numatic Henry or Hetty (and it doesn't hurt that Framptons transports the Chard firm's products).
As far as company cars go, you're spoilt for choice: Honda, Nissan, Toyota, Mini and Vauxhall all make cars in large numbers in the UK. The quintessential British boss's car is the Jaguar, of course — and sure enough, it's made in Britain. But Jaguar and sister company Land Rover are owned by the Indian Tata group, and Fry had a bad experience when he switched from German-built cars to a Jag on becoming chair of the Road Haulage Association: "I've had nine loan Jags in the last 18 months," he says.
So your only choice when it comes to a British-made and owned car manufacturer is Morgan or McLaren. Fortunately, the works canteen has a pretty easy time of it, because British food can be some of the best in the world — ex-F1 driver Jody Scheckter's Laverstoke Park Farm in Hampshire even produces a damn fine
buffalo mozzarella cheese.
Most transport companies run on caffeinated beverages, and what could be more British than a cup of tea? Well, plenty of things: while importers like Twinings are properly British, the tea itself is usually grown
in India or Africa. And the Yorkshire giant Tetley has been owned by Tata Group (yes, them
again) since 2000. No, if you want a truly British cup of tea you've got to go for Tregothnan — family-owned and grown and packed in Cornwall. Coffee lovers also have to look to Cornwall: the Eden Project grows coffee plants in its rainforest dome, and five years
ago Jamie Oliver's 15 restaurant served coffee made from its beans. But don't hold your breath for more — the harvest was only enough for around 50 cups. Thankfully, the humble digestive biscuit is pretty British — although even those posh Dove's Farm
organic digestives contain foreign palm oil. So even though it's tricky to buy British every time, you might just about do it. •
• If you're inspired to buy British, there are a few websites and blogs, such as Make It British and Still Made In Britain, that can help you find British-made products.