ESSENTIAL USER PLAN NO LOSS?
26th September 2013
Page 31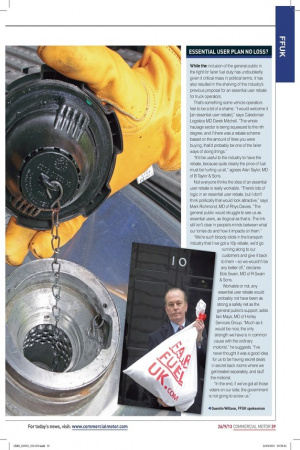 Page 31, 26th September 2013 —
ESSENTIAL USER PLAN NO LOSS?
Close
While the inclusion of the general public in the fight for fairer fuel duty has undoubtedly given it critical mass in political terms, it has also resulted in the shelving of the industry's previous proposal for an essential user rebate for truck operators.
That's something some vehicle operators feel to be a bit of a shame. "I would welcome it [an essential user rebate]," says Caledonian Logistics MD Derek Mitchell. "The whole haulage sector is being squeezed to the nth degree, and if there was a rebate scheme based on the amount of litres you were buying, that'd probably be one of the fairer ways of doing things."
"It'd be useful to the industry to have the rebate, because quite clearly the price of fuel must be hurting us all," agrees Alan Taylor, MD of B Taylor & Sons.
Not everyone thinks the idea of an essential user rebate is really workable. "There's lots of logic in an essential user rebate, but I don't think politically that would look attractive," says Mark Richmond, MD of Rhys Davies. "The general public would struggle to see us as essential users, as illogical as that is. The link still isn't clear in people's minds between what our lorries do and how it impacts on them." "We're such bloody idiots in the transport industry that if we got a 10p rebate, we'd go running along to our customers and give it back to them — so we wouldn't be any better off," declares Bob Swain, MD of R Swain
& Sons. Workable or not, any essential user rebate would probably not have been as strong a safety net as the general public's support, adds lain Mays, MD of Horley Services Group. "Much as it would be nice, the only strength we have is in common cause with the ordinary motorist," he suggests. "I've never thought it was a good idea for us to be having secret deals in secret back rooms where we
get treated separately, and stuff the motorist.
"In the end, if we've got all those voters on our side, the government is not going to screw us."