YOUR VIEWS ON FAIRFUELUK
26th September 2013
Page 28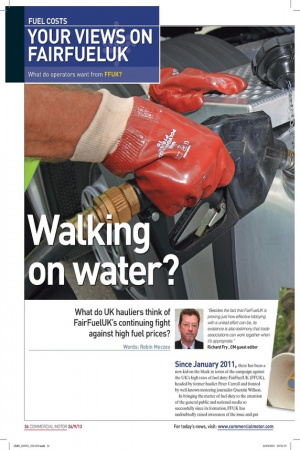 Page 29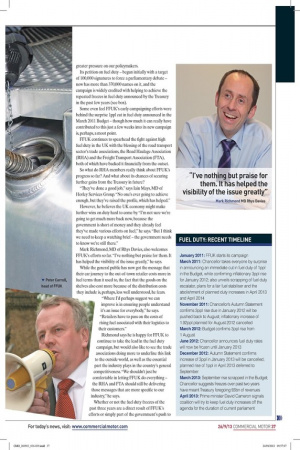 Page 30
Page 28, 26th September 2013 —
YOUR VIEWS ON FAIRFUELUK
Close
What do operators want from
What do UK hauliers think of FairFuelUK's continuing fight against high fuel prices? Words: Robin Meczes
Since January 2011 p there has been a new kid on the block in terms of the campaign against the UK's high rates of fuel duty: FairFuelUK headed by former haulier Peter Carroll and fronted by well-known motoring journalist Quentin Willson. In bringing the matter of fuel duty to the attention of the general public and national media so successfully since its formation,I,I,UK has undoubtedly raised awareness of the issue and put
greater pressure on our policymakers.
Its petition on fuel duty — begun initially with a target of 100,000 signatures to force a parliamentary debate — now has more than 370,000 names on it, and the campaign is widely credited with helping to achieve the repeated freezes in fuel duty announced by the Treasury in the past few years (see box).
Some even fee11,1,UK's early campaigning efforts were behind the surprise 1ppl cut in fuel duty announced in the March 2011 Budget — though how much it can really have contributed to this just a few weeks into its new campaign is, perhaps, a moot point.
1,I,UK continues to spearhead the fight against high fuel duty in the UK with the blessing of the road transport sector's trade associations, the Road Haulage Association (RHA) and the Freight Transport Association (FTA), both of which have backed it financially from the outset.
So what do RHA members really think about1,I,UK's progress so far? And what about its chances of securing further gains from the Treasury in future?
"They've done a good job," says lain Mays, MD of Horley Services Group. "No one's ever going to achieve enough, but they've raised the profile, which has helped."
However, he believes the UK economy might make further wins on duty hard to come by. "I'm not sure we're going to get much more back now, because the government is short of money and they already feel they've made various efforts on fuel," he says. "But I think we need to keep a watching brief — the government needs to know we're still there."
Mark Richmond, MD of Rhys Davies, also welcomes 1,I,UK's efforts so far. "I've nothing but praise for them. It has helped the visibility of the issue greatly," he says.
While the general public has now got the message that their car journey to the out-of-town retailer costs more in fuel terms than it used to, the fact that the goods on the shelves also cost more because of the distribution costs they include is, perhaps, less well understood, he fears.
"Where I'd perhaps suggest we can improve is in ensuring people understand it's an issue for everybody," he says. "Retailers have to pass on the costs of rising fuel associated with their logistics to their customers." Richmond says he is happy for1,I,UK to continue to take the lead in the fuel duty campaign, but would also like to see the trade associations doing more to underline this link to the outside world, as well as the essential part the industry plays in the country's general competitiveness. "We shouldn't just be
comfortable in letting1,1,UK do everything — the RHA and FTA should still be delivering those messages that are more specific to our industry," he says. Whether or not the fuel duty freezes of the past three years are a direct result of1,I,UK's efforts or simply part of the government's push to
get consumers to spend their way out of the recession is difficult to judge, but 1,I,UK has done "a brilliant job", says Nick Hay, MD of Fowler Welch.
"Whether it has influenced the government or not, I couldn't say — I think they make decisions based on the consequential impact on the economy — but any publicity has helped," he says.
Quentin Willson has proved an excellent focal point for the campaign, he believes. "He has done a great job, but it's sad we need a figure like him to get a number of organisations to work together effectively. RHA and FTA should be able to do that without someone like Quentin and without 1,I,UK," he says.
Like others, Hay is happy for the RHA to continue funding 1,I,UK but whether further cuts and freezes in duty are really likely to result is another matter.
"I'd say we've had all we're going to get," he says. "Let's not kid ourselves — there's a revenue stream there the government needs."
"They're on a losing battle," agrees Bob Swain, MD of R Swain & Sons. "It's the easiest tax to collect and one of the biggest the government has got — they're not going to surrender it up.
"I'm quite happy for Carroll to carry on banging the drum," he adds. "I don't know how much of everything is really down to him, but he's another cog in the wheel of letting the chancellor know he shouldn't do that."
FFUK's approach of getting general motorists involved — and thus the nation's mass voters — has certainly been a pivotal issue in getting the government's attention, believes Maritime Transport MD John Williams.
"The public voicing their concern has obviously chimed with certain ministers and they've reached the only decision they could, really — that it [fuel duty] can't continue to go up because people can't afford to drive to work any more," he says.
He, too, is unsure how much more can be achieved, given the nation's economy, but says he's happy for 1,I,UK to continue to be the lead group in the fuel duty campaign and for the RHA to continue to support it.
"I think we all want to do as much as we can to keep the attention and focus on this, but I'm very happy to see 1,I,UK [doing this], as a broader church representing wider elements of society," he says. "It's got to be the best way forward."
"I think the more people we can get in front of any government minister to lobby the case, the better," agrees Caledonian Logistics MD Derek Mitchell.
Mitchell even has a target for the fuel duty campaign to aspire to: "If you could get a 10% reduction in the price of a litre of fuel, that would be fantastic!" Over to you, Mr Carroll... •