The claim game
26th September 2013
Page 20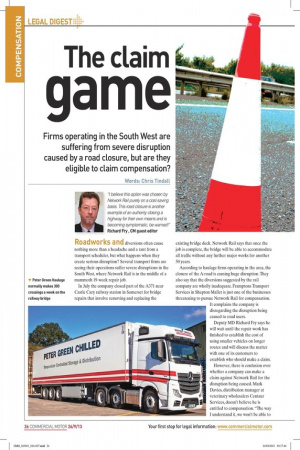 Page 21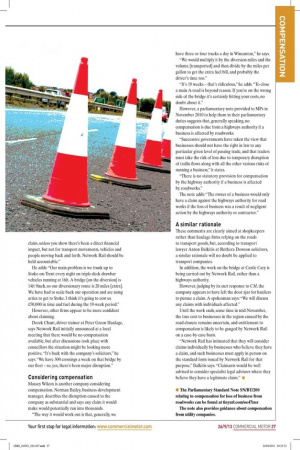 Page 20, 26th September 2013 —
The claim game
Close
Firms operating in the South West are suffering from severe disruption caused by a road closure, but are they eligible to claim compensation? Words: Chris • mdall "I believe this option was chosen by Network Rail purely on a cost-saving basis. This road closure is another example of an authority closing a highway for their own means and is becoming symptomatic, be warned!" Richard Fry, CM guest editor
Roadworks and diversions often cause nothing more than a headache and a rant from a transport scheduler, but what happens when they create serious disruption? Several transport firms are seeing their operations suffer severe disruptions in the South West, where Network Rail is in the middle of a mammoth 19-week repair job. In July the company closed part of the A371 near Castle Cary railway station in Somerset for bridge repairs that involve removing and replacing the
existing bridge deck. Network Rail says that once the job is complete, the bridge will be able to accommodate all traffic without any further major works for another 50 years.
According to haulage firms operating in the area, the closure of the A-road is causing huge disruption. They also say that the diversions suggested by the rail company are wholly inadequate. Framptons Transport Services in Shepton Mallet is just one of the businesses threatening to pursue Network Rail for compensation.
It complains the company is disregarding the disruption being caused to road users.
Deputy MD Richard Fry says he will wait until the repair work has finished to establish the cost of using smaller vehicles on longer routes and will discuss the matter with one of its customers to establish who should make a claim. However, there is confusion over whether a company can make a claim against Network Rail for the disruption being caused. Mark Davies, distribution manager at veterinary wholesalers Centaur Services, doesn't believe he is entitled to compensation. "The way I understand it, we won't be able to
claim, unless you show there's been a direct financial impact, but not for transport movements, vehicles and people moving back and forth. Network Rail should be held accountable."
He adds: "Our main problem is we trunk up to Stoke-on-Trent every night on triple-deck drawbar vehicles running at 16ft. A bridge [on the diversion] is 14ft 9inch, so our diversionary route is 28 miles [extra]. We have had to scale back our operation and are using artics to get to Stoke. I think it's going to cost us £50,000 in time and fuel during the 19-week period."
However, other firms appear to be more confident about claiming.
Derek Chant, driver trainer at Peter Green Haulage, says Network Rail initially announced at a local meeting that there would be no compensation available, but after discussions took place with councillors the situation might be looking more positive. "It's back with the company's solicitors," he says. "We have 300 crossings a week on that bridge by our fleet — so, yes, there's been major disruption."
Considering compensation
Massey Wilcox is another company considering compensation. Norman Bailey, business development manager, describes the disruption caused to the company as substantial and says any claim it would make would potentially run into thousands. "The way it would work out is that, generally, we
have three or four trucks a day in Wincanton," he says.
"We would multiply it by the diversion miles and the volume [transported] and then divide by the miles per gallon to get the extra fuel bill, and probably the driver's time too."
"It's 19 weeks — that's ridiculous," he adds. "To close a main A-road is beyond reason. If you're on the wrong side of the bridge it's certainly hitting your costs, no doubt about it."
However, a parliamentary note provided to MPs in November 2010 to help them in their parliamentary duties suggests that, generally speaking, no compensation is due from a highways authority if a business is affected by roadworks.
"Successive governments have taken the view that businesses should not have the right in law to any particular given level of passing trade, and that traders must take the risk of loss due to temporary disruption of traffic flows along with all the other various risks of running a business," it states.
"There is no statutory provision for compensation by the highway authority if a business is affected by roadworks."
The note adds: "The owner of a business would only have a claim against the highways authority for road works if the loss of business was a result of negligent action by the highways authority or contractor."
A similar rationale
These comments are clearly aimed at shopkeepers rather than haulage firms relying on the roads to transport goods, but, according to transport lawyer Anton Balkitis at Rothera Dowson solicitors, a similar rationale will no doubt be applied to transport companies.
In addition, the work on the bridge at Castle Cary is being carried out by Network Rail, rather than a highways authority.
However, judging by its curt response to CM, the company appears to have left the door ajar for hauliers to pursue a claim. A spokesman says: "We will discuss any claims with individuals affected."
Until the work ends, some time in mid-November, the true cost to businesses in the region caused by the road closure remains uncertain, and entitlement to compensation is likely to be gauged by Network Rail on a case-by-case basis. "Network Rail has intimated that they will consider claims individually by businesses who believe they have a claim, and such businesses must apply in person on the standard form issued by Network Rail for that purpose," Balkitis says. "Claimants would be well advised to consider specialist legal advisors where they believe they have a legitimate claim." • • The Parliamentary Standard Note SN/BT/200 relating to compensation for loss of business from roadworks can be found at tinyurl.com/oe47nuz
The note also provides guidance about compensation from utility companies.